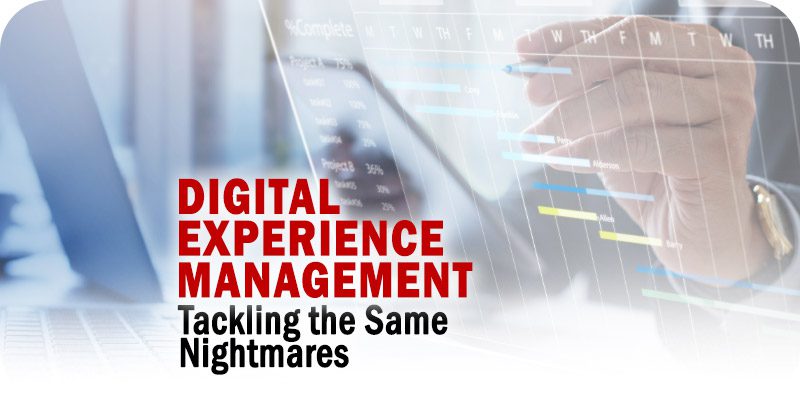 Solutions Review's Expert Insights Series is a collection of contributed articles written by industry experts in enterprise software categories. Mike Marks of Riverbed explains why the digital experience matters to both the customer and the employee, as they tackle the same nightmares.
The digital experiences of customers and employees are tightly intertwined. When a customer encounters a bad user experience, the employee trying to help that customer often hits the same roadblock. When there is a question or problem, the customer and employee regularly use the same applications and underlying technology. This means they run into the same bottlenecks, slow load times, and other failures. Employees face setbacks more often, of course, because they take this path every day, but customers have a lower tolerance for climbing over obstacles. If a customer using a self-service app encounters slow response times, they will be annoyed. If that customer calls a customer service rep on the phone and the rep experiences performance issues, the customer may walk. And the service rep will also be unhappy. Habitually unsatisfying experiences make employees question if they are working for the right company, which is never a good thing in a tight labor market.
Typically, Digital Experience Management for the customer and employee has been handled separately, with one product team focusing on the customer experience and a separate team looking at the employee experience. But the customer and employee digital paths are so similar that the experiences of one mirror those of the other.
Managing the Digital Experience Nightmare
---
A Holistic View of the Experience
Many people may think of Customer Experience (CX) simply in terms of how quickly a click on a company's website will get a response. But there is more to it than just that. Things that may not seem related to CX —such as logistics and shipping— are tied to customer satisfaction. Back-office processes play just as much a part as the outward-facing website. There are a lot of touch points involved, such as getting a product ready for pickup or delivery. Problems with inventory can be a factor, as can supply chain issues.
Many of those processes have long existed in silos, and business leaders may not realize that they cannot keep allowing those issues to interfere with the customer's experience. The customer doesn't know why the website does not work, or the digital store shelves are barely stocked, and the customer doesn't care. She just wants things to work.
When customers can't get a satisfactory result from a self-service app, it increases call volumes, wait times, and workloads for employees. When employees run into bottlenecks and network slowdowns, it decreases customer satisfaction and increases customer churn. In either case, company revenue can hang in the balance. Businesses need to develop an overarching view of the enterprise, which starts with conjoined data from different sources in order to create a cohesive, back-to-front view of operations. And that's where observability, particularly unified observability, comes into play. Rather than working according to preset metrics, unified observability assesses a system based on its outputs, which, combined with AI analytics, can reveal actionable insights on improving operations.
On top of working with increasingly complex network infrastructures, companies are under pressure due to pervasive staffing shortages. To relieve the pressure, companies are turning to tools that can provide context for alerts, prioritize their impact on the business, offer visibility across historically segmented silos, and automate repetitive tasks. But dealing with multiple monitoring tools can become an unwieldy task. A recent survey showed that during the pre-holiday crunch, IT teams were trying to manage that complexity using as many as six observability tools.
To date, the observability market and the customers who consume that data have been highly siloed. For example, companies track the customer's digital journey separately from the employee's experience even though they are using many of the same systems. Unified observability puts all of that monitoring into one basket. More than simply monitoring certain processes, unified observability collects and analyzes full-fidelity data from across the enterprise.
Speedy Resolutions Require Automation
Companies are expanding their cloud infrastructures and constantly adding or subtracting cloud-native services that can be quickly spun up or spun down. The infrastructures are becoming extremely complicated, too difficult for any IT staff to keep track of by itself. An increasingly key element to managing that complexity is software automation, capable of proactively identifying and resolving performance issues without requiring a company's limited IT staff to spend countless hours trying to get to the root of a problem.
IT teams are turning to automated systems that monitor the enterprise across silos so that the moment a symptom of a problem shows up, it can be attributed to a correlated root cause. VC dollars and big tech acquisitions are funding an emerging class of observability tools that help IT staff understand the business impact of technical issues, allowing them to prioritize which issues need to be fixed right away and which can wait. As automation and AI help junior staff identify and resolve more challenging IT issues, leaders can focus on strategic business initiatives instead of being drawn into that siloed war room type of troubleshooting, which winds up wasting most people's time.
Follow the Money
Historically, we've looked at the customer and employee digital experience as different journeys, but those paths are intertwined as customers move from websites to in-store experiences to order fulfillment. If a man decides he wants to buy a pair of new running shoes, he may step into the nearest retail shop to make sure they fit properly. He will then likely pull out his phone to check online prices and delivery options at other stores.
Each of those checkpoints along the journey presents the possibility of failure and customer dissatisfaction at a time when customers are cranky and finicky about network failures and page load times. In troubleshooting a customer's complaint, employees often have to walk in the customer's footsteps. For many companies, those journeys follow separate paths as the digital experience is monitored by different tools. This tool sprawl is challenging for chronically understaffed IT teams. As a result, companies are looking to consolidate that tools sprawl, and VC dollars are funding a new set of tools to ease the digital journey for both customers and employees.

Latest posts by Mike Marks
(see all)