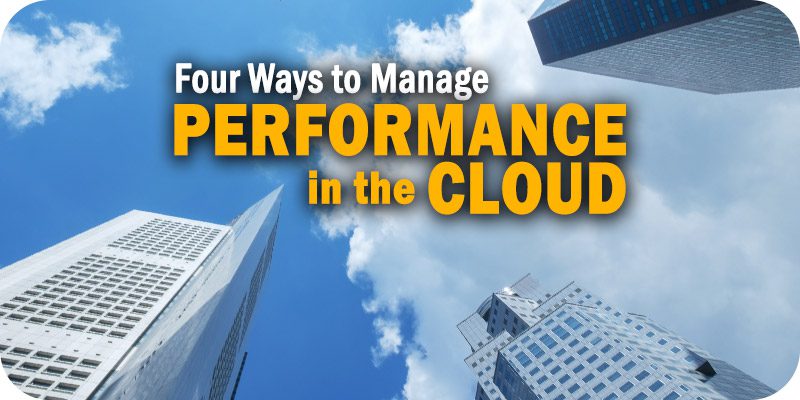 As part of Solutions Review's Premium Content Series—a collection of contributed columns written by industry experts in maturing software categories— Joe Byrne of AppDynamics talks about four crucial areas for technologists to consider when thinking about IT performance and observability in the cloud.

Technologists urgently seek greater visibility into dynamic and complex cloud-native applications and technology stacks. However, traditional monitoring and APM tools aren't designed to cope with the complexity of cloud-native environments. Technologists recognize this limits their ability to monitor and optimize IT performance to deliver seamless digital experiences to end-users.
In the rush to address this growing problem and to generate more data and insight into cloud environments, it's vital for technologists to think carefully about the solutions they are implementing. They need to ensure they select technology that not only alleviates their immediate pain points, but that will also meet their future needs as they continue on their digital transformation journey.
Four Ways to Manage IT Performance in the Cloud
---
Cloud-Native Observability Solutions Offer Scalability and Functionality Required for Modern Application Environments
Technologists should be looking to implement a new generation solution to observe distributed and dynamic cloud-native applications at scale. Traditional monitoring solutions continue to play a vital role, and will do so for years to come, but there will increasingly be certain limits to their functionality in cloud environments. For instance, when new use cases are added to existing solutions, data can sometimes remain disconnected, meaning users are required to jump from tab to tab to try to identify the root causes of performance issues.
Traditional and cloud-native applications are built in entirely different ways, and they're being managed by different IT teams with different skills and methods of working – that's why we're seeing a massive demand for SREs, DevOps, and CloudOps. These new teams require a completely different kind of technology to track and analyze performance data. They need a solution that is truly customized to the needs of a cloud-native technology stack to decipher short-lived microservices interactions, which can disappear once troubleshooting is done.
Open Standards are the Future
Technologists should ensure they find a solution that embraces open standards, giving a full-stack, correlated view of all telemetry data– most notably, OpenTelemetry.
OpenTelemetry is a vendor-agnostic and portable standard for metrics, logs, and traces (MLT) telemetry. It allows technologists to collect information from every part of their IT stack, beyond only the mission-critical applications where most have typically deployed agents to collect performance data until now.
Across all industries, technologists are recognizing the benefits of OpenTelemetry as a quick and straightforward way to generate visibility into performance and availability across every single technical element of their IT environment. As Gartner describes it, "OpenTelemetry's emergence as an open standard for telemetry collection promises improved interoperability and greater observability of microservices, containers, and Kubernetes."
This shift towards OpenTelemetry will undoubtedly gather pace over the coming years. Therefore, technologists need a solution capable of consuming, processing, and correlating the vast volumes of data that OpenTelemetry delivers and of providing a holistic view on all of the trace data they now have at their fingertips to understand IT performance and availability at a business transaction level.
Cutting-Edge Technology is Critical to Deliver Business-Level Insights
Technologists need to leverage the power of AIOps to prioritize actions for their cloud environments, so they should be looking for a solution that combines observability with advanced AIOps and business intelligence functionality. In the future, organizations will leverage AI-assisted issue detection and diagnosis with insights for faster troubleshooting. Ultimately, this will allow technologists to identify the root causes of issues more quickly and deliver speedier resolutions, minimizing the impact on the end-user experience.
This technology can also enable prioritization based on business impact, so technologists can focus on what really matters most to end-users and the business, and business leaders can understand the impact of IT performance on business transactions. Wherever possible, technologists should leverage the power of AIOps and business intelligence to analyze faster and prioritize actions into their cloud environments.
The Move to Cloud Observability Will Take Time
Despite the increase in cloud computing initiatives, most enterprise businesses still run the core of their application portfolio in traditional environments. While technologists may have intentions to make the shift to cloud-native architectures over the next few years, they're mainly extending and not replacing their application portfolio. Traditional monitoring solutions are still performing a critical role, enabling technologists to identify issues and take appropriate action on a large part of the IT landscape. This will continue to be the case for some time to come in most organizations.
Technologists need to consider cloud observability as a gradual transition that supports and enables the organization's broader digital transformation journey. This means they need to work with a partner who can guide them as they make the switch, whether in two years or ten years. They need a partner that can meet them where they're currently at and then help them to transition to a cloud-native solution gradually and seamlessly when the time is right for them.
Conclusion
As expectations for brilliant digital experiences continue to rise amongst both customers and employees, technologists know that they simply cannot afford any slip-ups when it comes to IT performance and availability. But currently, too many simply don't have the tools and insights they need to identify and resolve issues within a fragmented and dynamic hybrid cloud environment.
With the application world shifting at tremendous speed, technologists need to ensure that their monitoring capabilities keep pace. From understanding how highly distributed cloud-native applications work and preventing incidents, to adopting new ways to gather vast amounts of MELT telemetry data, technologists need contextual insights that provide business context deep within the tech stack. This is why it's so crucial for technologists to implement the right cloud-native observability solution, one that can meet their immediate needs and also allow them to scale functionality as their organization continues its own unique journey to the cloud.
Latest posts by Joe Byrne
(see all)