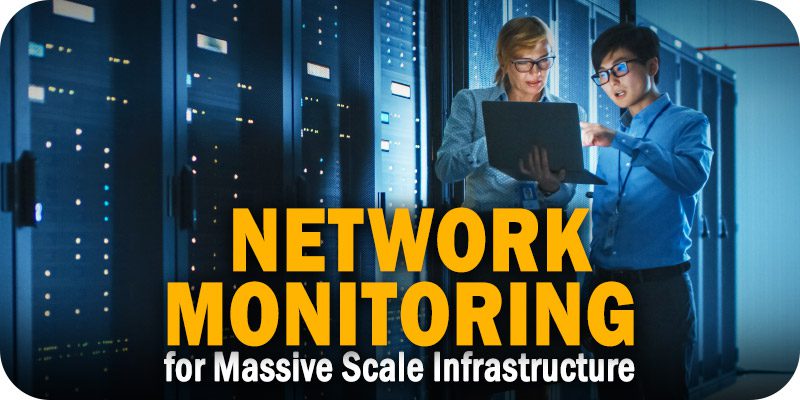 This is part of Solutions Review's Premium Content Series, a collection of contributed columns written by industry experts in maturing software categories. In this submission, Broadcom Software NetOps Specialist Yann Guernion reveals how modern network monitoring extends your monitoring reach to tackle the challenges of next-generation network technologies.

This article is being written at home. You might well be reading it at home, while you're working. Your social circle and business colleagues are also likely to be working from home (WFH). However, the dash to online is far broader than this new WFH culture. Students are learning from home. E-commerce is booming. Even medical diagnosis is increasingly conducted remotely.
Make no mistake. Connectivity is more important than ever – and this connectivity extends well beyond the four walls of the traditional data center.  The Internet is the new enterprise network now.
We may be putting our feet up more, but the people that manage networks are not. Faced with a burgeoning infrastructure scale, they are challenged to monitor up to cloud systems and remote work environments. Any potential degradation in network performance, reduction in availability, or even an outage must be proactively prevented to ensure continued business activities and an engaging customer experience. 
You can no longer rely on traditional LAN and WAN monitoring tools to do this – the network is simply too vast, too complex, and too interconnected.
The data confirms this explosive network growth. A global survey of executives and IT professionals by Dimensional Research finds that 49 percent of companies have 50,000 or more networked devices and 74 percent indicate 10+ new technologies and devices entering their network over the next two years. Companies with more network devices also plan to increase the number of devices by 50 percent over two years.
The problem is that organizations are struggling to monitor the fast-scaling network. According to the study, 73 percent indicate it is increasingly difficult to manage their network. And 71 percent state adoption of new network technologies is delayed by inadequate monitoring solutions.
Harnessing the Scale of Next-Generation Network Technologies
Clearly, modern monitoring solutions are needed to enable new technologies to scale with minimal risk. Network monitoring must reach services beyond the edge of the data center infrastructure; it must also provide application-level insights that correspond with the digital experience delivered to end-users and customers.
The latest unified end-to-end network monitoring platforms can help you understand, manage, and optimize the performance of digital services running on traditional and modern software-defined network architectures. These solutions extend your monitoring reach into edge services, multi-cloud, and ISP networks, letting you see every communication path and degradation point from the core network to the end-user. Using AI and ML capabilities, these solutions fuel intelligent insights, boosting organizations' readiness to manage emerging requirements for next-generation network technologies.
Actually, modern network monitoring systems aren't some hope for the future, they are live now. Take the real-world example of this communications service provider (CSP). Acquisitions resulted in the company contending with multiple network operations challenges, including too many existing monitoring tools. It also needed to manage more than a half-million miles of fiber, hundreds of thousands of fiber-lit buildings and Wi-Fi hot spots, mobile, and 5G networks.
Today, this CSP is integrating all dimensions of network monitoring into a unified platform that supports high-scale operations and provides assurance of the entire infrastructure estate. This spans 300,000+ devices, 6M+ polled items, and 4M+ interfaces. Innovative network monitoring has helped the CSP prove its SLA achievements, immediately saving more than $800,000 in penalties.
Likewise, there is the example of a managed services provider, which manages multi-technology and multi-vendor network infrastructures for European managed services customers. The organization lacked high-scale performance analysis that could store, analyze, and display massive volumes of information. A single operational network portal, underpinned by AI-driven monitoring, enabled the MSP to realize a 70 percent alarm noise reduction, compressing hundreds of alarms per week to 5-10 alarms, accelerating root cause identification, and improving the mean-time-to-repair.
Moving to multi-edge monitoring will require companies to develop partnerships with trusted network monitoring vendors that can help them harness all the potential of their SDN deployments. In practice, it is not sufficient to examine the network topology at a certain moment. You need to identify the performance problems associated with all the routes, anytime, anywhere, to optimize the whole digital experience you deliver.
---
Latest posts by Yann Guernion
(see all)