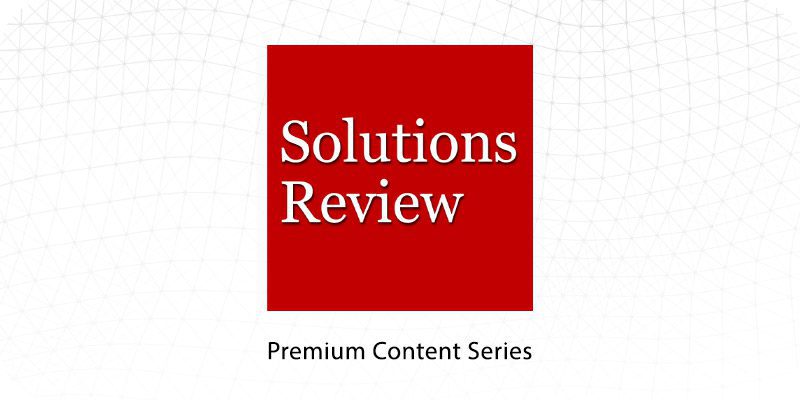 Solutions Review's Premium Content Series is a collection of contributed articles written by industry experts in maturing software categories.

Solutions Review is calling for contributors to participate in its upcoming Q3, 2022 Premium Content Series. Solutions Review's Premium Content Series is a collection of contributed articles written by industry experts in maturing business software categories. Since Solutions Review's first call for content in December of 2021, and on the heels of the company's third-annual Insight Jam community web event, Solutions Review editors have published more than 100 best practices articles across 14 category-specific business software resource sites through this editorial initiative.
Solutions Review's Premium Content Series is designed to meet three main criteria: to provide decision support for business software buyers during product/vendor evaluations, to offer best practices for successful implementation, deployment, and piloting, or to provide forward-thinking analysis that helps business software buyers and practitioners remain on-trend. This successful program has garnered exceedingly positive feedback from our audience and praise from participating organizations.
Solutions Review is a leading content source in the enterprise technology space and keeps its finger on the pulse of the end-user market by constantly polling its audience. The Premium Content Series is a way Solutions Review editors pair this thought leadership with insights from the best in brightest in business software. Nearly 10 million technology professionals will use Solutions Review to help them evaluate business software this year.
Solutions Review Premium Content Series – Who We've Published:
In Backup and Recovery Solutions Review: Scality Chief Product Officer Paul Speciale, IPC CTO Tim Carmody, Barracuda Networks CTO Fleming Shi, DataCore Software Field CTO Brian Bashaw, OwnBackup CTO Adrian Kunzle, Scality Co-Founder and CTO Giorgio Regni, Pure Storage CTO Andy Stone, CTERA CTO Aron Brand, Quest Software Technology Strategist and Principle Engineer Adrian Moir, JetStream Software President and Co-Founder Rich Petersen, Veeam Global Technologist Michael Cade, Skytap Technical Product Evangelist Matthew Romero, and Malwarebytes Chief Operation Officer Barry Mainz.
In Business Intelligence Solutions Review: Anexinet Director of Applied Intelligence Brian Atkiss, AtScale Co-Founder and CTO Dave Mariani, Data Society Co-Founder and CEO Merav Yuravlivker, Pimcore CEO Dietmar Rietsch, Infragistics Product Manager Casey McGuigan, Vyasa Founder and CEO Christoper Bouton, and Crayon CPO Erica Jenkins.
In Business Process Management Solutions Review: Infragistics User Experience Manager Stefan Ivanov, Newgen Software Head of Solutions Anurag Shah, OutSystems CEO and Founder Paulo Rosado, Blueprint Software Systems Vice President of Research & Development Irina Lunin, Camunda co-founder and chief technologist Bernd Ruecker, Jobsity CEO Andres Garzon, Pipefy COO Ananth Avva, WEBCON Chief Evangelist and VP Mike Fitzmaurice, Tonkean Chief Revenue Officer Jay McGrath, Laserfiche Director of Cloud Services Daniel Herndon, and Kissflow Chief Product Officer Dinesh Varadharajan. 
In Customer Relationship Management Solutions Review: Redpoint Global Chief Marketing and Strategy Officer John Nash, Itransition Chief Marketing Officer Dmitry Azarov, Evolv AI CMO John Trembley, Algolia CEO and Board Member Bernadette Nixon, and Act! CEO Steve Oriola. 
In Data Integration Solutions Review: Precisely Senior Vice President of Product Management Emily Washington, GigaSpaces CEO Adi Paz, Datometry Founder and CEO Mike Waas, Cleo CTO John Thielens, Boomi Chief Innovation Officer Ed Macosky, and thatDot COO Rob .
In Data Management Solutions Review: Monte Carlo CTO and Co-Founder Lior Gavish, ChaosSearch Founder and CTO Thomas Hazel, ZL Technologies Co-Founder and CEO Kon Leong, Datafold CTO and Co-Founder Alex Morozov, Cloudera Field CTO and Cyber Security Lead Carolyn Duby, Arcion Founder and Chief Architect Rajkumar Sen, Syniti CTO and EVP of Growth & Innovation Rex Ahlstrom, MirrorWeb Operations Director Harriet Christie, Actian Director Teresa Wingfield, Tamr Head of Corporate Development Matt Holzapfel, Cherre SVP of Client Solutions Raj Bhatti, Infragistics Product Manager Casey McGuigan, Datafold founding CEO Gleb Mezhanskiy, Upsolver Co-Founder and CEO Ori Rafael, and Neutronian Co-Founder Timur Yarnall.
In Data Storage Solutions Review: Wasabi CEO David Friend and Spectra Logic Senior Director of IT Tony Mendoza.
In Endpoint Security Solutions Review: Deepwatch CTO Wes Mullens, GitGuardian Developer Advocate Mackenzie Jackson, Tidelift Co-Founder and CEO Donald Fischer, and Horizon3.ai Head of Attack Engineering Eric Fredrickson. 
In Enterprise Cloud Solutions Review: Matillion CTO Ed Thompson, Mindtree Global Head of Cloud Kapil Uniyal, Instaclustr Chief Product Officer Ben Slater, ISG Partner Bernie Hoecker, Flexera Director of Cloud Market Strategy Brian Adler, Infinity Virtual Founder and CEO Adam Stern, Zadara Vice President of Worldwide Solution Architecture Noam Shendar, Workspot Chief Product Officer Jimmy Chang, Virtana Senior Product Manager David McNerney, SenecaGlobal Senior Vice President of Strategy Mike O'Malley, GCSIT President Michael Norring, Silk CTO Derek Swanson, and CoreStack Field CTO Venkatesh Perumal.
In Enterprise Resource Planning Solutions Review: IFS North America Chief Technology Officer Rick Veague, Arkenea Founder and President Rahul Varshneya, Syntax Vice President Craig Kelly, GrammaTech's Chief Executive Officer Mike Dager, Solace architect in the Office of the CTO Jesse Menning, Acumatica Vice President of Partner Sales Sean Chatterjee, Gocious Co-Founder and Chief Technology Officer Maziar Adl, and PC Bennett Solutions Founder and CEO Patricia Bennett. 
In Identity Management Solutions Review: Graphus General Manager of ID Agent Manoj Srivastava, Avatier Corporation President and CEO Nelson Cicchitto, Axiomatics President and Chief Commercial Officer Jim Barkdoll, Axiad Co-CEO Bassam Al-Khalidi, Attivo Networks Chief Security Advocate Carolyn Crandall, HID Global Director of Product Management Mrugesh Chandarana, Auth0 Chief Product Officer Shiven Ramji, SecZetta Chief Product Officer Richard Bird, One Identity VP of Global IAM Strategy Larry Chinski, and Veridium Chief Technology Officer John Callahan. 
In Information Security Solutions Review: AT&T Business Head of Cybersecurity Evangelism Theresa Lanowitz, Silverfort CTO and Co-Founder Yaron Kassner, Beachhead Solutions Vice President Cam Roberson, Snow Software Principal Solutions Consultant Rob Price, Dialpad Director of Growth Content Grace Lau, IFS North America Chief Technology Officer Rick Veague, AT&T Cybersecurity Consulting Regional Manager Tim Hazzard, ChaosSearch Field CTO Dave Armlin, LogPoint Regional Director Charles Kenney, Hypergiant VP of DevSecOps Bren Briggs, QuSecure Co-Founder and Chief Product Officer Rebecca Krauthamer, Versa Networks Head of Products Dogu Narin, SecurityBridge CEO and Founding Member Christoph Nagy, and DuploCloud Founder and CEO Venkat Thiruvengadam. 
In Marketing Automation Solutions Review: Act-On Software Chief Commercial Officer Gregg Ames, Odaseva CMO Rémy Claret, Botco.ai Co-Founder and CTO Chris Maeda, Dotdigital Chief Product and Technology Officer Steve Shaw, ClickDimensions Chief Growth Officer Margaret Wise, CallRail Demand Generation Marketing Manager Ryann Hogan, and Terminus VP of Marketing Stephanie Capouch. 
In Network Monitoring Solutions Review: Cynamics Co-Founder and CEO Eyal Elyashiv, Accedian Director of Enterprise Solution Michael Bacon, NetBrain Senior Vice President of Engineering Song Pang, Broadcom Software Head of Network Observability, Agile Operations Matt Stevens, BackBox CEO Andrew Kahl, and Broadcom Software NetOps Specialist Yann Guernion.
Solutions Review Premium Content Series – How to Get Involved:

Solutions Review is calling for contributors for its Q3, 2022 Premium Content Series now. Contributor bylines are open to technical, product, and C-level leaders but no marketers are accepted. All Solutions Review category-specific sites are participating and contributor participation is free! The company is looking to make its Q3 Premium Content Series the most impactful and resource-heavy yet!
Here's how it works: Solutions Review editors make a call for article abstracts (like this one!) and review submissions. Then, editors provide feedback and program style guidelines before the contributing author writes the full article. Upon completion, editors make optimizations before publishing and sharing to Solutions Review's growing Universe of Influence on LinkedIn, Twitter, and other media channels. Solutions Review editors will begin publishing contributor bylines the week of Monday, July 25 on a rolling basis.
Submit to:
For Big Data, BI and Analytics, Backup and Recovery, Data Protection, and Cloud; Timothy King: tking@solutionsreview.com
For ERP, BPM, CRM, and Marketing Automation; William Jepma:

wjepma@solutionsreview.com

For Cyber Security, Identity Management, Endpoint Protection, and Enterprise Networks; Mike Costello: mcostello@solutionsreview.com
Deadline for abstract submissions: September 30,, 2022

Solutions Review is a collection of business software news and resource sites that aggregates, curates, and creates the leading content to connect buyers and sellers. Over the past six years, Solutions Review has launched 20 distinct and category-specific Buyer's Guide sites for technologies ranging from Cybersecurity to Big Data and WorkTech, as well as Identity and Access Management, Endpoint Security, Data Analytics and Data Management, Enterprise Resource Planning and Business Process Management, and Enterprise Cloud and Network Monitoring.
Latest posts by Timothy King
(see all)