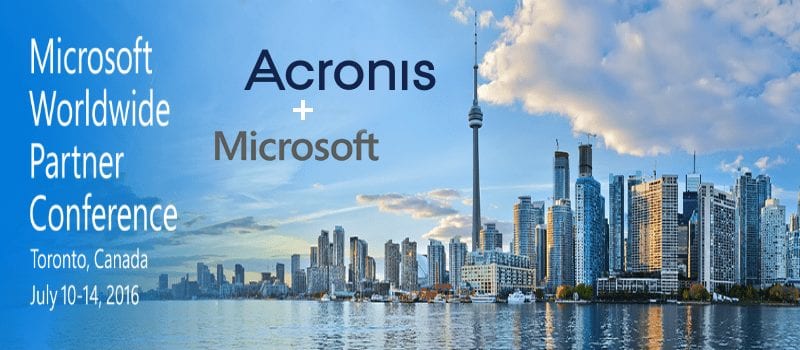 Yesterday, Acronis, a popular backup and recovery product vendor announced the new, Acronis Backup Cloud Extension for Microsoft Azure and Azure Stack, at the Microsoft Worldwide Partner Conference in Toronto. The extension allows Microsoft Cloud Services Providers to easily acquire and maintain a host of new backup services, across both virtual and physical environments. Acronis was founded in 2003, and is known for delivering complete, comprehensive and cost effective data protection. By simply plugging into Azure, or Azure stack environments, users can take advantage of data protection across a wide section of the Microsoft product line, including Microsoft Exchange, Office 365, SQL Server, SharePoint, Active Directory, as well as workstations, servers, Hyper-V hosts, and mobile computing platforms.
Added capabilities of the Backup Cloud Extension include:
Unified Data Protection Management – Provides simplified ability for Microsoft CSPs to scale business with the Acronis multi-tenant, multi-tier service provider solution. Manage data from a single management console.
Highly Flexible Storage Options – Leverages simple storage subscriptions to protect any server or mobile device using Azure as the backup target. The Acronis Storage Gateway for Microsoft Azure enables backing up directly to Microsoft Azure storage containers, creating a true hybrid backup storage solution
Migration Capabilities – Delivers a deep set of migration functions for recovering and restoring data in complex environments. Migrate on-premises servers running Windows or Linux to Azure and migrate workloads from other public clouds, such as Amazon Web Services (AWS), to Azure virtual machines
"Our partners and their customers demand aggressive RTOs and RPOs, and need a complete data protection solution, especially as we migrate more workloads to the cloud," said Craig Joseph, Chief Operating Officer, intY, a Microsoft Multi-Channel CSP. "Having an easy and complete hybrid data protection service that backs up data from any system and device, and recovers to any system and device, provides a unique and differentiated offering for our Microsoft Azure end users."
Additionally, Microsoft Cloud Service Providers assert that the new product's enhanced capabilities will enhance traditional backup and storage workloads with speed, and simplicity.
For more information about the new Acronis Backup Cloud Extension for Microsoft Azure, click here.
Tune into

Microsoft Worldwide Partner Conference

, happening right now and catch presentations from industry leaders, keynote speakers, and learn about new product releases from vendors like Acronis and Microsoft.