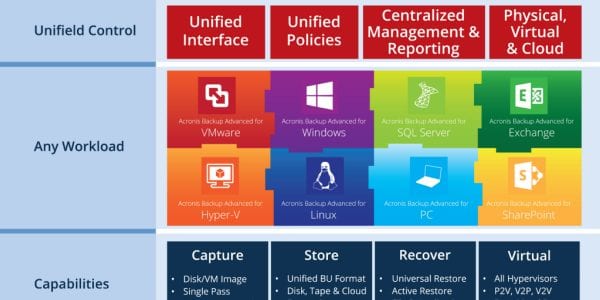 Acronis Backup Advanced is a disk-based backup and disaster recovery software designed for larger enterprise environments and provides flexible disaster recovery for all systems; physical, virtual and cloud.
Acronis Backup Advanced is tailored to support virtual machines, physical servers, applications and workstations. One of Acronis' strengths is its speed; average recovery time for Acronis Backup Advanced is minutes rather than hours.
Backup data can be stored anywhere, including the Acronis Cloud and all backup activity can be managed by a single management console.
Key Features:
Disk Image Technology– Disk-level snapshots save complete images of a disk or volume in one simple step (including the operating system, applications, and data). This technology works for both physical and virtual machines.
Centralized Management- The unified dashboard lets you manage all backup operations for both physical and virtual machines from a single, central location. Assign backup plans to one or more machines, review status updates, and receive alerts from one console.
Business Applications Protection- Disk image technology enables consistent backup of running applications. This allows you to backup Exchange, SQL Server, SharePoint, and Active Directory data as you work. Granular application data may be restored without taking systems offline, protecting your business from expensive downtime.
Compression and Duplication- Deduplication can be run on either the source or target side to minimize data movement and maximize utilization of storage and network infrastructure. This helps reduce storage costs and minimizes network load.
Multiple Backup Destinations- Store your backups in up to 5 different locations to ensure more flexible, reliable recovery. Combine local disks, attached storage, tape, network storage, and/or cloud locations to minimize your storage costs and provide multiple recovery options in the case of disaster.
Acronis Backup to Cloud- All Acronis Backup Advanced products have direct access to secure, offsite storage in the Acronis cloud if you add a subscription to your purchase.
Universal Restore- Included with all Acronis backup products, this data recovery technology gives you the ability to instantly restore backups to any machine, regardless of platform.
Bottom Line:
Acronis Backup Advanced is a thorough and powerful backup application, which is suited for an expert IT manager of a large business rather than smaller businesses. Acronis Backup Advanced has corporate level power, and has the versatility to restore individual files as well. Acronis Backup Advanced stores and recovers drives, partitions, folders and files is quite a bit differently than its competitors and requires an expert IT manager to handle but it has all the features needed for the most advanced hardware and software along with the speed desired by most large corporations.