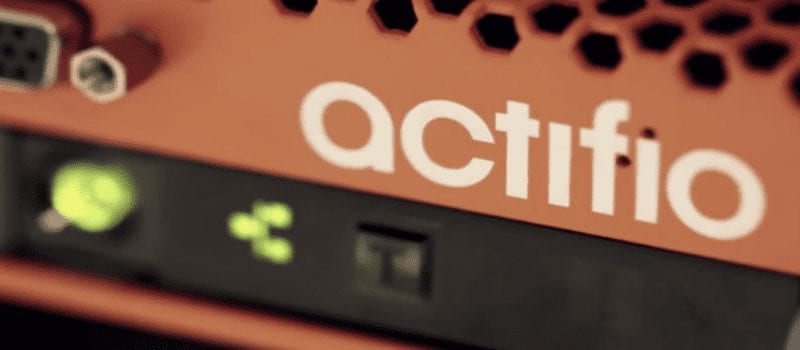 The Boston, MA based, copy data virtualization company, Actifio, announced yesterday a major update to Actifio Resiliency Director, its solution that facilitates non-disruptive application recovery and test environment creation, 'from the data center to the cloud'. According to their website, Actifio Resiliency Director works to "deliver complete resiliency in the cloud and enables enterprises to restore business functionality faster and cheaper than previously possible." The new product orchestrates compute, network, and data at a cloud service provider or enterprise disaster recovery site and validates the result. In an effort to address the challenges that enterprise face within and after the disaster recovery process, Resiliency Director is said to aid businesses, offering peace-of-mind with just a few clicks.
"This latest version of Actifio Resiliency Director is just another example of how Actifio is continuing to pioneer the transformation of data management for today's enterprises." said Ash Ashutosh, CEO and Founder, Actifio. "Data is the lifeblood of the modern enterprise and is only going to increase in importance, so ensuring it is recoverable in the event of an application failure is critical. The improvements to Resiliency Director make it quicker, cheaper, and easier for businesses to guard against disaster, giving them invaluable piece of mind that their important data is only ever a few clicks away, even when things don't go to plan."
Actifio reports some new product features, including:
Security: Resiliency Director now allows multiple admin roles to be created and defined, meaning different users can do specific operations based on their role. This is especially useful for large enterprises and service providers who typically have multiple users and roles.
Operational Simplicity: Resiliency Director now allows a single recovery plan to be applied to multiple resource pools and port groups, significantly reducing the number of recovery plans that need to be created.
More Automation: Multi NIC IP customization allows a VM with multiple NICs to be customized with new IPs for each NIC during the creation of a DR plan. This eradicates the manual process of assigning IPs to each additional NIC.
More OS Platform Support: The new version adds support for a wider range of Linux and Windows OS versions, in addition to supporting VMs with localized OS versions.
Automatic Upgrades: Resiliency Director users will now have access to self-service upgrades to any future versions, reducing upgrade costs and simplifying the process.
Actifio illustrates how their product will save enterprises time and allow for focus on more urgent processes:
"Using Actifio Resiliency Director, today's enterprises are able to dramatically improve application availability and resiliency, eliminating errors that are often introduced while undertaking manual tasks to recover applications. Because the disaster recovery process – from testing to actual execution — can be thoroughly automated, the time spent on recovering large numbers of applications and virtual machines (VMs) is collapsed from days to minutes. As a result, Actifio helps companies focus on managing their applications, not only their recoveries."
For more on the new updates, visit www.Actifio.com