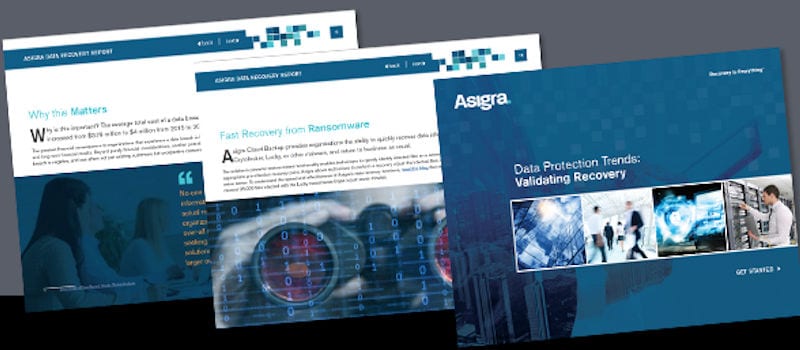 Cloud Backup and Disaster Recovery firm Asigra recently unveiled the results of a new survey, saying that enterprises across the globe only recovered about 5 percent of their data over 30 months. The findings from the survey support the providers key selling point: use-based pricing.
After analyzing the data from about 1,100 companies across eight verticals from healthcare to energy, Asigra had a lot to say about how businesses recover their data and what they pay to do so.  The firm argued that enterprises would be able to save an enormous amount of their budget if they only paid backup and disaster recovery costs for the lost data they are actually able to retrieve after an event.
Especially given that the study shows it's a rarity for a business to get all of their data back, according to mspmentor.net.
"No one has ever disclosed this kind of empirical data recovery information before," Eran Farajun, executive vice president at Asigra, said.
He went on to say that their report uncovers "critical information for companies seeking to make smart choices about data protection solutions and how to allocate ever-scrutinized IT dollars as part of a larger overall business strategy."
The study, held from January of 2014 to August of 2016, also unveiled that enterprises in the United States are not recovering as much data as companies in other parts of the world. Organizations in Europe and Asia were able to get back 10 times more data than businesses in the states. Ranging efficiency levels was the catalyst, mspmentor.com reported.
The "Manufacturing & Energy" vertical reportedly recovered 6 percent of data, which was the highest of all the groups studied. The "Public Sector & Healthcare" vertical was at the bottom of that list, with only 2 percent recovered.
Apparently, organizations in the US were only able to regain about 19 gigabytes of data, while a country such as Singapore recovered 207 GB, mspmentor.com reported. Most of the recovery efforts came after ransomware attacks.
"With the average total cost of a data breach increasing from $3.79 million to $4 million between 2015 and 2016, and the rise in ransomware attacks, businesses face more financial consequences than ever before when using inflexible data recovery strategies," Farajun said.
The entire report is available for download if you'd like more detail, just click here.
Follow us on Twitter, Facebook and LinkedIn for the latest backup news!