We've heard it a million times, people telling us that we need to save every hour and that we need to remember to backup our data. Most of us don't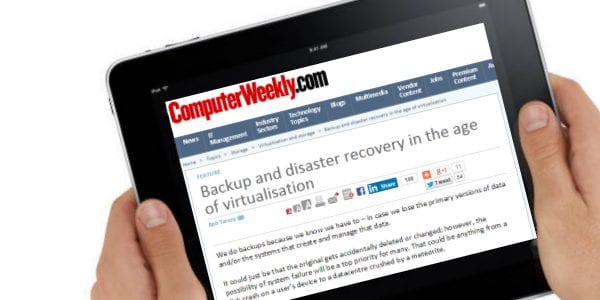 take the time to do it, end up losing all of our work when the power goes out and get angry because we should have taken the time to backup our work.
Business backup is the same as personal backup just on a bigger scale. It's still important to take the time to make sure all the corporate data is backed up and safely stored. Before the virtual age this required big server rooms and if anything was to happen to that room, like a fire, the data would be gone, and disaster recovery would be impossible.
Backup and disaster recovery are not mutually exclusive but disaster recovery is not possible without backup occurring first. Disaster recovery getting the systems back online as quickly as possible when something happens; it could be a power malfunction or a flood.
According to an article by Bob Tarzey for Computer Weekly, the increasing use of virtualization has changed the way disaster recovery is carried out because in a virtual world, a system can be recovered by duplicating images of virtual machines (VM) and recreating them elsewhere.
Before virtualization of backup and disaster, if a server crashed you would have to get a completely new server. Then install all the systems and applications software, attempting to get all the settings as they were before, unless of course you had done that in advance – which would not have been possible if you had only invested in one or two redundant servers on standby for many more live ones, not knowing which would fail; Or, for a really critical application, you may have had a "hot" standby, all fired-up and ready to go. However, that would have doubled the costs of application ownership, with all the hardware and software costs paid twice.
Restore the most recent data backup, for a database that might be almost up to date, but for a file server, an overnight backup may be all that is available, so only as far back as the end of the last working day. Anything that was in memory at the time of the failure is likely to have been lost. How far back you aim to go is defined in a backup plan as the recovery point objective (RPO).
Virtualization changes all of this. Data can be easily backed up as part of an image of a given VM including application software, local data, settings and memory, and there is no need for a physical server rebuild; the VM can be recreated in any other compatible virtual environment. This may be spare in-house capacity or acquired from a third-party cloud service provider. This means most of the costs of redundant systems disappear.
Disaster recovery is quicker easier and cheaper in the virtual world; faster recovery time objectives (RTOs) are easier to achieve.
Disaster recovery as a service (DRaaS) has become the most thorough and cost effective way to make sure that all of your corporate data is safe. Most of the solutions are set-it-and-forget-it; while integrating the solution, the IT department can set how and the frequency of the backups.
DRaaS providers provide unique value to make it worth their customers' while.  For example UK-based Plan B Disaster Recovery says its Microsoft Windows Server DRaaS offering can guarantee recovery, because it includes nightly testing of the recoverability of the images it takes of its customers' server environments. This not only ensures recoverability but often pre-empts problems the customer has yet to notice.
Selecting a strong backup and disaster recovery solution is one of the most important things businesses of any size will invest in. No matter kind of work or what kind of data need a company has, if it is essential to the business it's a question of if, it's a question of when there will be a disaster. Without a solution, loss of data could put you out of business. With a solution you won't even need to bat an eye; your data will always be safe.