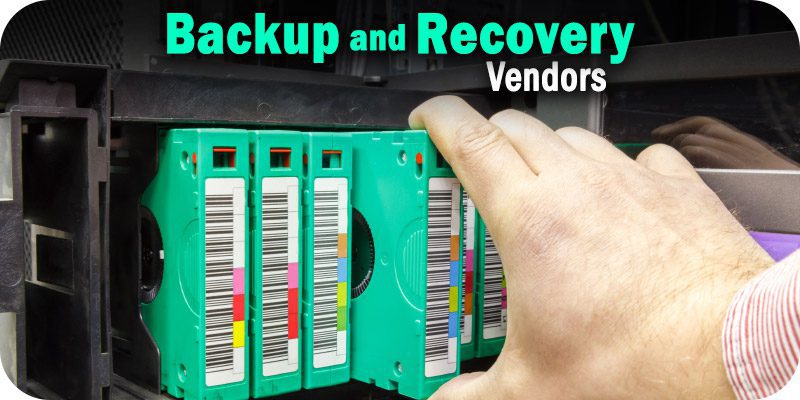 This is part of Solutions Review's Premium Content Series, a collection of contributed columns written by industry experts in maturing software categories. In this submission, Redstor Chief Revenue Officer Mike Hanauer offers his take on what MSPs should want and demand from potential backup and recovery vendors.

Analysts at IDC predict in the next two to three years that 55 percent of organizations will have migrated data protection to a cloud-centric model. Market research from Fortune Business Insights shows the global managed services market is developing at a compound annual growth rate of close to 13 percent and will hit $557.10 billion by 2028.
It's an interesting time for managed service providers (MSPs). Not only is the potential for increasing business stronger than ever, but the balance of power in their relationships with vendors is also shifting.
The old guard of backup and recovery software companies has had to transform to protect both Software as a Service (SaaS) and cloud-native workloads. Early innovators of modern data protection methods have morphed into the plodding, impersonal giants they once railed against. Newer vendors, already at that SaaS and cloud level, are arriving in droves but with little experience. Acquisitions are being made, everyone is jockeying for position, and amidst the activity, at least one thing is abundantly clear – software vendors need MSPs more than ever.
So, as MSPs finally get a long-overdue place in the catbird's seat, what should they be looking for in their software vendors…and demanding? The following offers some food for thought.
Simplicity Sells
From supporting new cloud apps to incorporating additional security, technology in the services space is ever-evolving. When it comes to larger vendors, the way to keep pace has often been through acquisition. Unfortunately, that creates a jumble of different code bases, built by various people in various regions. The result is a confusing amalgamation that makes it much more complex for MSPs to integrate and control products.
One of the great gifts of progress is simplicity. MSPs today need a single web app to manage customer data in a multi-tenant fashion. That protection should cover data on-premises, in cloud-native infrastructure, and SaaS apps. The capability to deliver, manage and protect productivity tools like Microsoft 365 and Google Workspace, and do so easily, has become table stakes. Powerful, more niche SaaS apps, like Salesforce and QuickBooks, must be covered, too. And with more data connectors into SaaS apps, MSPs can easily gain new revenue streams.
Such considerations can help MSPs consolidate their vendor base, resulting in much simpler, lucrative offerings while freeing up resources so they can focus on other strategic initiatives.
Partnerships and Programs
Rock-solid offerings that span legacy and modern infrastructure can help MSPs save a lot of time and money. However, there's more to achieving success than having the right product. Vendors need to act as true partners. That means providing MSPs with the support and capabilities to take advantage of market demand quickly.
For instance, vendors should make it fast and easy for MSPs to onboard new customers without friction; just a few clicks and a couple of minutes is all it should take to start protecting data. The vendor should provide automation that not only simplifies the process but effectively makes the path to generating revenue as short as possible. MSPs should be able to become certified in hours, not the days or weeks required with traditional face-to-face training. Naturally, being able to obtain all services from a single vendor can not only simplify MSP management, but it also fosters a stronger relationship.
Strong sales and marketing enablement programs and resources should be in place. Some MSPs have difficulty generating leads and are wary of investing in additional resources. A strong vendor partner program provides dedicated people in key areas such as sales, marketing, and technology. This support should enable MSPs to identify opportunities and create and execute marketing campaigns. Toolkits should include automation and hyper-personalization, facilitating co-branded efforts that pull leads into the top of an MSP's funnel.
Social Proof Advocacy
Nothing speaks louder than active users recommending – or warning against – products and services based on personal experiences with technology and/or vendor. We tend to rely on like-minded people for insight into restaurants, hotels, and more on a daily basis. The equivalent for vendors and MSPs in this space would be advocacy by customers on social media or product/service ratings on review sites.
A good example is peer-to-peer review sites like G2. With security such an issue these days, and threats like ransomware damaging reputations and causing downtime, reviews on essential services such as backup and disaster recovery can help MSPs find the partners who will help them to perform and grow.
What might surprise many, though, is how those in the trenches view vendors these days. Stalwarts who have long occupied top spots have been unseated. For MSPs considering vendor relationships, it may be time to recheck the leaderboard and reacquaint yourself with the vendor landscape.
Invest in the Future
When evaluating a vendor, MSPs should make sure that there's a clear path to the future. That means establishing whether the vendor has a track record for innovation and proven dedication to purpose-built solutions that offer MSPs the simplest, smartest way to protect customer data and grow revenue.
Vendor solutions should unify such things as backup and recovery of data residing on modern and legacy infrastructure, on-prem or in the cloud or SaaS apps, via a single, multi-tenant application. Many organizations mistakenly think a fast experience with the cloud only comes with multiple boxes on-site to pull down data quickly. However, the technology exists that instantly prioritizes data during recovery, so users can access important data in seconds while full recovery continues in the background. This also means data can be streamed directly from a cloud for instant access testing.
A solution that requires no hardware but still provides rapid, customer-driven recoveries of whatever data is needed to carry on work is far more appealing than the alternative of having to wait to recover everything. MSPs should also explore promising developments like artificial intelligence that polices backups and automatically isolates suspicious files for malware-free recoveries.
The threat landscape changes daily and that's only one area that can impact MSPs and their ability to serve customers. MSPs should seek vendors that are in it for the long run – and be ready with their own set of demands – so that they can ensure their own long-term success.
Latest posts by Mike Hanauer
(see all)