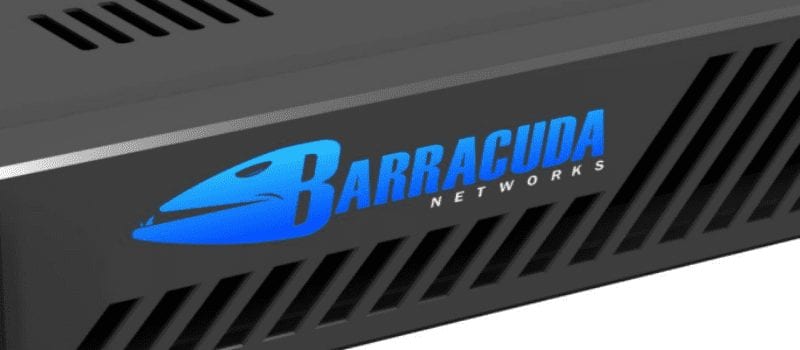 Barracuda Networks is known for simplifying IT with cloud-enabled solutions that empower customers to protect their networks, applications, and data, regardless of where they reside today. Last week the solution provider announced the new, Barracuda Web Security Gateway version 11.0, which offers customers advanced security protection and improved SSL scanning performance, as well as the ability enforce policy configuration on Chromebooks.
"There is an increasing reliance on web-based applications like Office 365 for businesses and G Suite for schools. With web-borne threats at an all-time high and encrypted traffic becoming the norm, web security has shifted to a top priority for organizations of all sizes and especially for educational institutions supporting mobile devices and users. With the new updates announced today, Barracuda Web Security Gateway is positioned better than ever to provide solid protection against these advanced threats, and to help companies and schools make the most of their web access," said Hatem Naguib, SVP and GM Security, Barracuda.
Barracuda Web Security Gateway is purpose built to enable organizations to benefit from online applications and tools, while preventing exposure to web-borne malware and viruses, and limiting lost user productivity and misused bandwidth. With version 11.0, Barracuda Web Security Gateway combines powerful web security functionality with next-generation firewall capabilities allowing for more robust, complementary security protection managed from a single pane of glass.
New Features Include:
Accelerated SSL Scanning and Web Traffic Performance
Mozilla recently reported that for the first time ever, 50 percent of page loads in a day were HTTPS, or SSL encrypted. This encryption gives users peace of mind when sending sensitive information such as credit card data or passwords; however, it also presents a significant challenge to administrators now that it is increasingly being used to hide inappropriate or malicious content. At the same time, SSL Inspection is a resource intensive function, which puts strain on network performance. Barracuda Web Security Gateway version 11.0 includes built-in SSL acceleration hardware cards to models 610 and higher, doubling the performance.
Security, Policy Enforcement and Monitoring
These tasks that require detailed inspection of web traffic can be performance intensive and have an adverse impact on the performance of UTMs and firewalls. The Barracuda Web Security Gateway can be deployed with Barracuda
NextGen Firewalls
and now, with any existing third party UTM or firewall, which allows each device to perform the functions that it does best. When used with an existing UTM or firewall, the Barracuda Web Security Gateway provides the layered security, granular filtering and reporting that IT admins typically need, while also shouldering the burden required to do so, resulting in improved security, network performance gains, and increased visibility.
Advanced Threat Protection
Web browsing is one of the most commonly exploited threat vectors when users are exposed to malicious links and harmful downloads. According to Gartner, "Advanced threat defense is becoming increasingly important in the Secure Web Gateway market. Vendors must deliver on the promise that they are truly security products or services and not just web filtering solutions." The Barracuda Web Security Gateway now offers integration with Barracuda
Advanced Threat Detection
, a cloud-based microservice designed to detect and protect against ransomware or other advanced threats. Customers can add this additional layer seamlessly – without requiring complex or expensive firewall upgrades – providing complete protection for users browsing online.
Security for Chromebooks
According to Futuresource Consulting, Chromebooks now account for more than half of K-12 school market device sales. While these devices provide a cost effective way to implement online assessments and efficient device management, they also represent a significant security gap and need for mobile policy enforcement. The new Barracuda Chromebook Security Extension enables schools to enforce designated Barracuda Web Security Gateway policies on Chromebooks via an easy-to-use browser plugin.
Barracuda Web Security Gateway version 11.0 is available immediately at no additional charge to existing customers on supported platforms with an active Energize Updates subscription. Barracuda Web Security Gateway list price starts at $1499 USD for the appliance and list price of $399 USD for Energize Update subscriptions. Optional Instant Replacement subscriptions are available starting at $349 USD.
For additional information on Barracuda's new release, please visit https://www.barracuda.com
Be sure to follow Solutions Review on Twitter and Linkedin for your latest and greatest in backup industry news and releases!