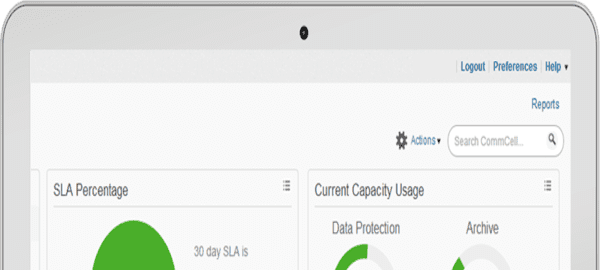 Commvault yesterday issued a press release announcing the next generation of its solutions portfolio, which delivers across a broad spectrum of innovation designed to help customers address the increasing challenges of managing data and information in highly distributed, fast-paced global business environments.
The company explains: "Commvault's new offerings fundamentally redefine the data protection, archive and cloud data markets where everything is application aware, authentication and encryption data security is essential, backup windows are significantly reduced, instant recovery is the standard, data is accessible natively from all live and versioned locations, disaster recovery is automated, and resources are optimized and orchestrated (storage, compute, and network). The new product innovations in the latest solutions release enable Commvault to be best positioned as the market leader to help customers of all sizes transition from traditional to modern hyper and converged infrastructures, consume new technologies, and fully explore true exploitation of the cloud for critical business workloads."
Commvault's combination of fully-integrated software applications, the Commvault Data Platform, and professional services provides enterprises with unprecedented levels of openness, offering customers flexibility of choice in infrastructure, platform, compute and storage providers. Users will now gain the ability to open up new opportunities to reduce legacy spending, be released from vendor lock-in, find pathways to more modern environments, and drive new efficiencies and speed in IT operations.
Commvault's new portfolio of solutions includes a broad range of innovations, all of which are designed to drive additional business insight and value for customers that redefine the market in these key areas:
An open, standards-based approach: Runs natively in on-premise, hyper and converged environments, and across hybrid, private and public clouds, for protection, retention, access and compliance
Enabling disruption: Unified data management approach takes the risk out of new technology adoption and helps companies deal with uncertainties in marketplace disruption
The end of lock-in: Traditional data software lock-in is eliminated
Move to the cloud: Provides the bridge from legacy to transitional hybrid to true exploitation of the public cloud; simplifies native moves to and from the cloud for disaster recovery; fully migrate business-critical workloads into the cloud to ensure security
Redefines archive: Transform digital landfills into accessible active datasets
Hardware array and converged and hyper-converged infrastructure ready: Leading the industry in snaps and replication management across HW arrays and infrastructures provides flexibility and choice
Governance throughout the data lifecycle: Apply active governance from when data is created based on content and context.
End-to-end data security built in: Security is fully integrated for data in all locations
Shift and reduce traditional IT spend through smarter IT: Speeds time to value, consolidates point solutions, shift resources from low to high value through faster business process execution and increased automation
Total search: Search across all data in all locations, across structured and unstructured data
Robert Hammer, Chairman, President and CEO of Commvault concludes: "Commvault's next generation software and platform are uniquely designed to help customers activate their data to unlock critical business insight and drive new value from their technology investments"
For Commvault's complete presser, click here.
Download our free enterprise Backup and Disaster Recovery Buyers Guide.