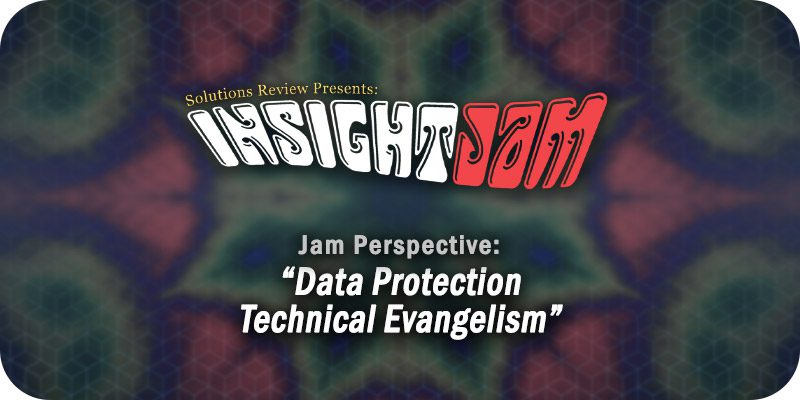 BUDR Insight Jam panel moderator Demetrius Malbrough offers a perspective on why backup and recovery vendors should consider data protection technical evangelism.
Positioning and creative messaging are essential in today's ultra-competitive data protection landscape. Companies that offer multi-cloud products, solutions, and platforms that copy, manage, store, or recover mission-critical data need evangelists esteemed in the wisdom of SaaS applications, PaaS providers, and virtualized infrastructure in IaaS to separate themselves from the competition. They need someone to stand in the fast-moving current of digital transformation to vocalize and simplify the technical complexities of cloud data management and how to secure critical workloads resiliently.
The answer lies within a Technical Evangelist.
Most organizations are either using or evaluating a solution from one or more vendors in the Gartner magic quadrant for Enterprise Backup and Recovery Software Solutions to help manage and protect their data.
What if these Enterprise Backup and Recovery Software Solutions Companies had Technical Evangelists to ease the anxiety of your sales process?
As a customer, you will benefit from interaction with a Technical Evangelist who is not trying to sell you a product or feature; but a comprehensive solution and a platform to reduce the friction and pain of keeping your business innovative, profitable, and operational.
This blog post will explore what a Technical Evangelist is, why data protection companies need them, and evaluate how to find the right one.
Data Protection Technical Evangelism
---
What is a Technical Evangelist?
Technical evangelists are highly sought-after professionals within the tech industry. They are responsible for vocalizing, demonstrating, and evangelizing innovative solutions to complex problems, building relationships with community influencers, thought leaders, critical personas, and promoting new technologies and products through storytelling and content creation. They are also responsible for educating internal and external stakeholders on the latest technology trends, best practices, and industry insights in the Backup and Recovery Software industry.
As the face of a company, Technical Evangelists are critical players in shaping the company's brand, which is why they must be knowledgeable, passionate, and persuasive about data protection. They should have a visible brand on social platforms like LinkedIn or Twitter and have verifiable content online for public consumption through YouTube, blog posts, or podcast episodes.
Technical evangelists are essential to any company with a product that needs to penetrate the market. They are the technical soothsayers who help DevOps Engineers, Cloud Architects, and Backup/Recovery/Storage Administrators understand the need for multi-cloud data management solutions and how automation eases the burden of quickly protecting and securing your workloads and applications.
Why You Need a Data Protection Technical Evangelism
I've been a Data Protection Technical Evangelist for a few years now, and I've personally seen the value of evangelists. In the data protection industry, there are a lot of different products and solutions on the market. Tons of new data protection and cyber security companies emerge out of stealth with billion-dollar valuations almost weekly. Small niche players are also cropping up to protect data from applications like Atlassian and Jira, entire AWS environments, and database backup and verification.
An evangelist works cross-functionally across Marketing, Sales, Engineering, Product, and Customer Support to help you understand and clarify your brand narrative and bring a sense of technical clarity to your go-to-market messaging and storytelling efforts. They play an essential role in assisting organizations in understanding the value and benefits of emerging technologies and how you should leverage them to help drive your business. Technical Evangelists are often the go-to people for understanding the technical components of a particular technology and how best to use it to achieve grassroots technical persona-based brand awareness.
How to Find the Right Technical Evangelist
As mentioned above, you will find a strong Technical Evangelist doing what they do best, being visible on social media, speaking at tech conferences, and building relationships at community meet-ups. They will possess a deep network of other influencers in the industry on LinkedIn, Twitter, and other visible platforms, speaking about the technology on why it's vital to the target audience.
Technical Evangelists must have a strong understanding of the latest technologies and trends and possess excellent communication and presentation skills. Their role is to bridge the technical and business worlds, helping to ensure that both sides are on the same page regarding new technologies and products. Ultimately, their goal is to ensure that the technology they promote is adopted with simplicity, efficiency, and cost-effectively.
Skills and Experience Necessary
At a minimum, a Technical Evangelist should possess the following skills, abilities, and experience to make an impact on your brand, sales, and GTM:
Co-develop and implement industry campaigns
Be an engaging storytelling and ability to create and deliver presentations
Provide high-level and low-level technical use cases to customers
Able to demo the product and understand the architecture behind the scenes
Educate stakeholders on the latest technology trends, best practices, and industry insights
Share expertise and knowledge with the industry as an influencer and thought leader
Participate in trade shows and industry conferences
Influence new product development, including technical features and capabilities
Participate in community groups and build technical, strategic alliances
In conclusion, Technical Evangelists are essential to increasing sales and expanding your company's brand awareness in a grassroots way. Companies need a Technical Evangelist to bridge the technological gap, evangelize their capabilities, and demonstrate the value of data protection to internal/external stakeholders and potential customers. With the right Technical Evangelist, data protection companies will reap the benefits of better customer engagement, increased sales, and optimized operations.
With the ever-growing need for data protection, Technical Evangelists are critical players in helping data protection companies stay ahead of the competition. Finding the right Technical Evangelist is key to ensuring that your data protection solutions reach the right people and are well-understood. They are an essential part of any data protection company's marketing strategy. And they can ensure that your data protection services reach the widest audience possible and increase the chances of success. By hiring Technical Evangelists, companies can ensure that their data protection services get the maximum number of potential customers.
If you need the best Technical Evangelist in the Backup and Recovery / Data Protection industry, please reach out to Backup & Recovery Pro, whom I just so happen to know.
Latest posts by Demetrius Malbrough
(see all)