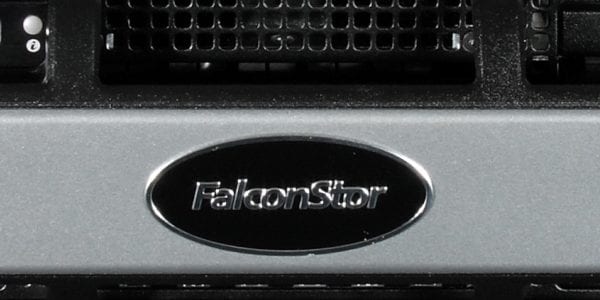 FalconStor Continuous Data Protector (CDP) is a disk-based backup solution that efficiently protects business-critical data such as databases, email and files. CDP enabled fast recovery from disasters that range from as little as five minutes for files and under four hours for critical data.
Centralized backup can be performed off of secondary CDP snapshot volumes. This out-of-band configuration isolates all backup related loads from physical or virtual production servers. Archive requirements can be addressed with the FalconStor HyperTrac Backup Accelerator option, which automates the selection and mounting of CDP snapshot volumes to backup media servers.
CDP streamlines and simplifies complicated DR tasks like network configuration and booting physical or virtual servers. Data is continuously available and protected in its original format without the need to run manually backup software. This frees up IT administrators to meet business protection demands in heterogeneous environments.
Key Features:
Open Backup Architecture- Supports- Direct attached/internal storage (DAD), networked storage over iSCSI or Fibre Channel (FC), physical and virtual server environments and Major enterprise operating systems including Microsoft Windows, Linux, Solaris, AIX and HP-UX.
Flexible Data Capture– Continuous or periodic protection, data journaling to protect information at a per-write level of granularity, periodic snapshots to give numerous bootable recovery images based on a pre-set schedule, and advanced scheduling, retention, disposal and reclamation optimize snapshot capacity management.
Zero-Impact Backup- Eliminates the need to back up directly from application servers by allowing you to back up raw data to tape directly from virtual FalconStor CDP volumes.
RecoverTrac Technology- Automates the tasks of protecting and recovery data, and resuming business operations, supports any type of storage networking: P2P, P2V or V2V.
Non-distributive DR Testing- The RecoverTrac enables non-disruptive testing of recovery jobs before an actual fail occurs.
Any-to-Any WAN-Optimized Data Replication– Replicate data from any vendor's primary storage environment to any other storage device.
Bottom Line:
FalconStor supports application-specific data protection for most business applications including Microsoft, Oracle, and SAP. CDP is a relatively flexible solution can be applied at enterprise level or in the form of storage appliances, gateway appliances and small-footprint virtual appliances for VMWare environments, but there is no SharePoint granular recovery so file and image-level recovery cannot be performed at the same time.