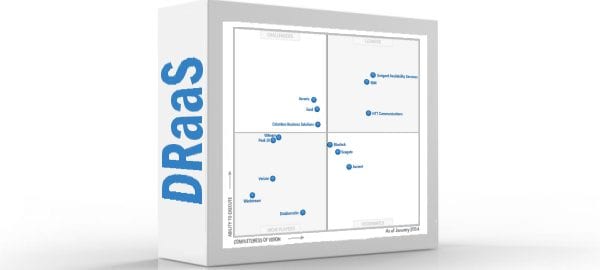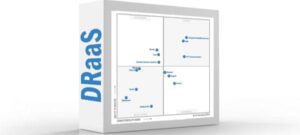 Gartner recently released a Magic Quadrant report on Disaster Recovery as a Service (DRaaS). In this summary, the first of its kind, Gartner goes into great length in highlighting the strengths and reasons for caution regarding each vendor listed while providing a helpful visual on the current trajectory of each provider. The companies are grouped into four quadrants based on their ability to execute and the completeness of their vision. The names of each segment are as follows: Niche Players, Visionaries, Challengers, and Leaders.
Gartner found there to be a wide variance in experience and service quality amongst DRaaS solutions. Gartner also projects that by 2018, more organizations will use disaster recovery as a service offerings than traditional syndicated recovery services. DRaaS emerged to address the needs of the IT department's need to support increasingly aggressive recovery time targets and more frequent and lower cost testing as IT departments are sometimes understaffed or cannot commit to large backup and disaster recovery (BDR) programs.
Early on, smaller companies were adopters of DRaaS solutions. This was because organizations of this size lacked the skill and specialized staff to execute disaster recovery on their own. Vendor-managed disaster recovery required very little to no upfront cost and were seen as an attractive option to growing businesses. Larger organizations have traditionally shied away from these services due to their larger infrastructures and ability to manage their own disaster recovery through on-site hardware. Additionally, established organizations cited security concerns, long adoption times, and volatility amongst providers as reasons why they chose traditional disaster recovery methods.
2013 was a key year, as DRaaS improved to give solutions-seekers a greater choice in vendors, lower monthly costs, and improvements in both security and scalability, garnering interest from more and more large-scale businesses. The space now hosts much more competition than in the past, as the 170+ vendors in the industry have greatly helped to make pricing more realistic for a variety of companies.
DRaaS has been seen by many as a tool that is deployed with much more frequency amongst organizations in highly regulated industries, including healthcare and finance. However, the vendors who contributed in polling to this graph explained of increased adoption across all industries as application data and the number of knowledge workers rises exponentially. Disaster recovery has a direct impact on business performance in all of its forms. As Gartner notes however: "No single DRaaS service attribute was overwhelmingly rated positively or negatively by the references. This may indicate that users feel today's services are simply "good enough."
The field is relatively thin compared to some of Gartner's other quadrant reports, and in this particular publication the major players are spread apart. With only two companies near the middle of the quadrant, it is clear that there is no consensus amongst the top vendors in terms of offerings or services. Given that this is the first issue of this study, the field figures to grow in the near term.
Gartner highlights who they see as the top-14 DRaaS vendors in the arena. Digging deeper into the solutions providers themselves, there are three organizations labeled as 'Leaders', with Sungard Availability Services and IBM in a league of their own. NTT Communications is the other, as their service supports virtual and physical servers in multiple geographies, facilitating global support for hybrid configurations. NTT also allows its users unlimited failover and recovery testing at no additional cost.
Acronis, known for offering high-quality technical support, flexible recovery testing, and hybrid recovery configuration, is joined by iland, and Columbus Business Solutions as entrenched members of the 'Challengers' bracket, but are all within striking distance of becoming 'Leaders' before long.
Bluelock is the closest of the 'Visionaries' to earning a spot amongst the 'Challengers' or 'Leaders.' They currently have a limited, but growing experience with hybrid recovery configuration support, although they have received a high reference customer satisfaction score for an ability to meet target recovery time objective SLAs. The other two players in the 'Visionaries' quadrant are the well-known Seagate, and Axcient, a DRaaS provider who is compliant with many popular government regulations like HIPAA, PCI, FINRA, and MSRB. Axcient remains primarily a provider of a self-service DRaaS.
The 'Niche Players' quadrant is the most crowded, with five solutions providers included. VMWare and Peak 10 are right on the cusp of joining the 'Challengers' bracket, but Gartner feels as though they have just a little more to prove before including them there. Amongst the other three are Verizon (you may have heard of them), Windstream, and Databarracks, a provider who supports rapid failover times for both virtual servers (15 minutes or less), and physical servers (30 minutes or less).
Although this quadrant may look a little sparse, DRaaS is a growing IT services industry and should show significant growth by the time Gartner releases the 2016 version of this report.
To view the full report, click here.