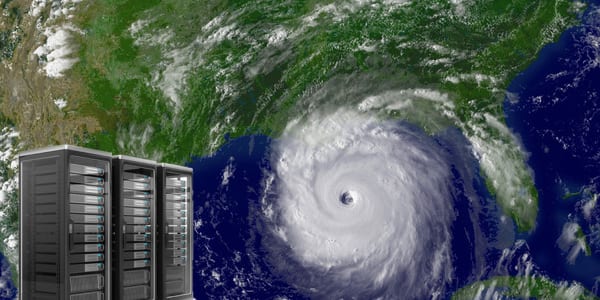 The Atlantic Ocean's hurricane season is upon us, running from the beginning of June until late November. According to Google, an average season will bring 12 named tropical cyclones, 6 of which are likely to reach hurricane intensity, with 3 of them becoming major in nature (category 3 or higher). To the average person, this may not be anything to lose sleep over. However, if you're a business owner or someone in a position of authority in your organization, the time is now to start formulating a disaster recovery plan.
Many organizations ignore planning for natural disasters, given the rarity with which they occur. While that's true, and the chance of your business falling victim to the wrath of a hurricane is slim, if it does happen, there's a good chance the company will fail to recover.
Hurricane Sandy, measured physically as the largest hurricane ever recorded in the Atlantic, had an estimated economic impact of approximately $72 billion dollars, making it the second-costliest hurricane in US history. Much of that damage was physical, and lives were lost, but businesses were decimated as well, as the storm wiped out data an immeasurable amount of important business data.
A recent Symantec study which polled companies around the globe, found that each incident in which a disaster was responsible for data loss cost an average of $287,000. The American Sustainable Business Council also found that companies lose an estimated $3,000 daily when they are forced to close to due weather-related disasters.
When it was found that companies lost a "significant" amount of their vital business data, 43 percent of companies never re-opened, and 50 percent closed within two years of the event. That means that only 6 percent of the companies hit by such disasters survive after losing large amounts of data. In a more general sense, 25 percent of businesses close after a natural disaster, sometimes even without losing mass amounts of data.
Hurricanes aren't the only problem, either. Companies in the Asia and Pacific regions reported more than $1.5 trillion in losses as a result of natural disasters, and between the years 1970 and 2013, $2.8 trillion dollars worldwide vanished in this same way.
In the most damaging of storms, business lose their physical building(s), which obviously means that everything inside is unrecoverable. But even when the disaster leaves the structure, the things inside can be destroyed via fire, water, and extreme temperatures. According to Wasp Barcode Technologies, less than 46 percent of small businesses track their inventory. In conjunction with disaster recovery planning, this is important. How are you going to know what you need to recover if you don't keep count of what you have? Inventory and asset loss are obviously key things to consider keeping a number-figure of.
Strangely enough, even with these types of figures readily available, 43 percent of businesses still don't have disaster recovery plans, which means they also don't have solutions. Of organizations that do have a plan in place, 90 percent of them spend less than one day per month working on or updating the plan.
Special thanks to Brian Sutter, Director of Marketing, Wasp Barcode Technologies (click here for their State of Small Business Report) and the great folks at Infor for help with some of the numerical figures.