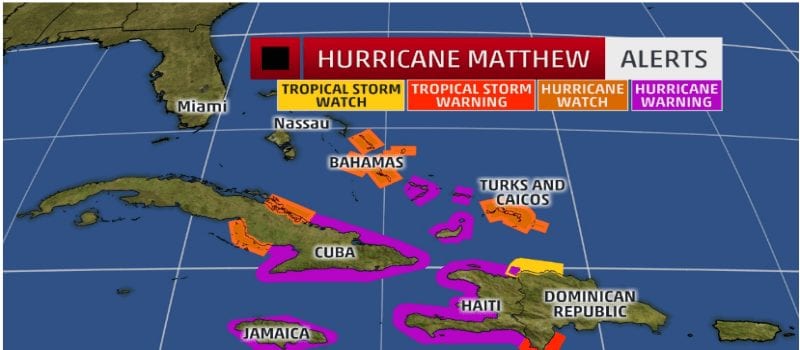 The Atlantic Ocean's hurricane season is upon us, running from the beginning of June until late November. Hurricane Matthew is likely to remain a hurricane and a threat to lives and property well beyond the Caribbean. After weaving through the large islands of the Caribbean into Wednesday, and will also strike parts of Jamaica, eastern Cuba and the Bahamas before flirting with parts of the U.S. East Coast into this weekend.
Widget not in any sidebars
Events like this don't come along often, but then they do- companies of all size begin to review their backup and disaster recovery process. Many organizations ignore planning for natural disasters, given the rarity with which they occur. While that's true, and the chance of your business falling victim to the wrath of a hurricane is slim, if it does happen, there's a good chance the company will fail to recover.
If you're a business owner or someone in a position of authority in your organization, the time is now to start formulating a disaster recovery plan.
Cloudberry Lab's recent survey on enterprises' current approaches and attitudes towards backup and found that almost half of respondents (49 percent) have only one copy of their business data, which could cause a complete operational disruption in the event that data becomes inaccessible, like in the event of a massive storm.
To get you thinking about how to be proactive in the event of a natural disaster, here are a few steps you can take to reduce downtime.
Steps to take in the wake of a disaster:
1. Immediate Response
What you do in the immediate aftermath of a disaster is paramount. This is the time when you flip on the "disaster switch" and begin to consolidate everything that is of importance to the daily function of your organization. Whether this means contacting your cloud BDR provider or moving servers out of a flooded room, this will impact how the following steps are performed, and how likely you are to re-open in the future.
2. Environmental Restoration
Obviously in the event of an environmental disaster this is important, especially to small and mid-sized organizations that lack the means to funnel all of their day-to-day data elsewhere for safe keeping. Along with all of your vital business data, your brick and mortar establishment is the physical part of the business, so that's noteworthy. However, walls and roofs can always be repaired, if your success relies on your ability to gain insights from your data, that must take precedence. Although troublesome, companies in the enterprise bend to the will of their environment to a much lesser extent, and are much more likely to have BDR solutions in place.
3. Functional Restoration
Get your business back to a point where it can function. It still may be too early to reinstitute the functionality of your business processes, although that greatly depends on what plagued it before step 1. This is really the first step to re-opening the proverbial doors before allowing data to flow in and out once more.