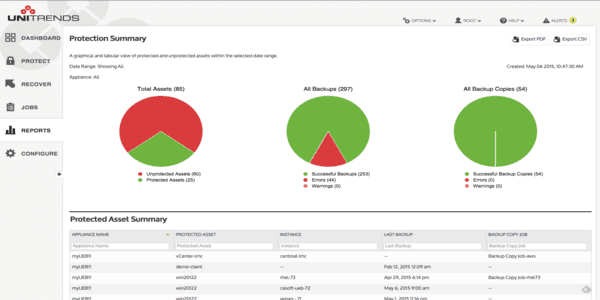 Unitrends recently announced the release of version 8.1 of their enterprise-level cloud recovery solution. The latest release of this "robust" data protection software powers the company's Recovery-Series family of physical backup and disaster recovery appliances as well as its Enterprise Backup (UEB) virtual appliance. Version 8.1 touts speed as its biggest selling point; providing customers with up to 50 times faster backup windows. In addition, the new offering supports a Red Hat Enterprise Linux (RHEL) deployment option and advanced support for VMware vSphere 6.
Up to 50 times faster backup windows: Version 8.1 incorporates a new changed-block tracking feature for Microsoft Hyper-V ecosystems. This new filter driver does a better job at moving to virtual machines at the hypervisor level as they occur, which results in the speed enhancements the company explains. This also means that recovery point objectives can be done in a much shorter amount of time.
Full support for VMware vSphere 6: This new offering also extends VMware protection to support vSphere 6. In addition, Unitrends also enables protection for applications and operating systems within one or more VMware vSphere virtual machines. In that, administrators can set different RPO's, recovery time objectives and service level agreements at the hypervisor level as well as granularly. They can also control the amount of data to be protected granularly, as opposed to having to select the virtual machine in its entirety.
UEB on RHEL: Deployment options for UEB now include execution directly on RHEL in addition to packaged virtual appliances for VMware and vSphere and Microsoft Hyper-V, driven by market and customer demand. RHEL integration provides greater stability for larger enterprises and includes direct tape archiving via direct attach.
Unitrends Free: Yes, the company also offers a free solution. Version 8.1 is the engine behind that software offering, a free virtual storage appliance designed for IT professionals who are seeking cost-effective protection for home labs, early-stage virtualization projects, and small environments.
Other enterprise-worthy features of 8.1 include:
Mac OS 10.10, Ubuntu 14, and RHEL 7 support
Microsoft SQL Server AlwaysOn Failover Cluster protection, delivering enhanced physical and deep virtual protection for high local availability
NetApp Cluster Mode support, providing high-availability configurations for large environments
Oracle Automatic Storage Management advanced support, ensuring critical data protection on and off-premise
Unitrends' Chief Technology Officer Mark Campbell says: "Release 8.1 demonstrates our continued commitment to providing flexible backup and recovery solutions that adapt to any IT environment. With our proven data protection offerings, customers can stop worrying about data loss and downtime, and instead focus on strategic IT projects that drive business growth."
For the full press release, click here.