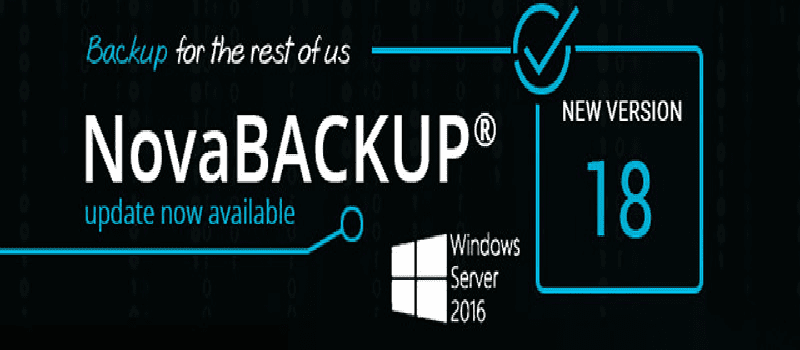 Today, Backup and recovery software vendor, NovaStor released it's latest version of NovaBACKUP, featuring complete support of Microsoft's Windows server. Included with the update is a series of new application support including a redesigned centralized monitoring console application, a free offering to clients and users. NovaSTOr is known for it's network backup solution, NovaBACKUP DataCenter, which brings scalability, reliability and speed to heterogeneous environments. NovaSTOR is a committed Microsoft partner, boasting, 'first to market support' for the company's latest and greatest technological releases.
"In this release NovaStor unleashes a powerful combination punch of support for the latest technologies including Microsoft Server 2016, Exchange 2016, and SQL 2016 and is ready to backup and restore these technologies when you are."
NovaBACKUP 18 arrives with impressive functionality at its price point, and includes several new enhancements for the latest versions of Hyper-V and VMware virtual machine environments. In remaining true to the company's, "Backup for the rest of us" philosophy, the new release also includes a free central monitoring application, CMon: central Monitoring Application, a design inspired directly by customer feedback. CMon allows users to define users and roles within an organization, and allows insight into the status of critical data, be it remotely, on-prem, or via smartphone.
"NovaStor knows that our users and partners cannot put their businesses on hold, waiting for their vendors to support the latest technologies, and this is why it is our priority as a company to react immediately to new OS and application releases. Our new CMon monitoring application offers something absolutely priceless, the power of knowledge about critical data – and we're giving it away FREE to our users and partners. It's an example of why we continue to build enduring relationships.", said Michael Andrews, Managing Director at NovaStor in today's press release.
Check out the new app  that you can download for free from the NovaBACKUP.com website and for more on the new update that offers users advanced solutions for the backup and recovery of critical data .