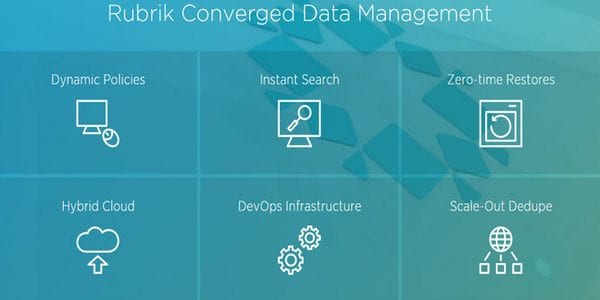 Rubrik, provider of the industry's first converged data management platform, recently announced a $41 million dollar Series B funding round and the general availability of their r300 Series Hybrid Cloud Appliance. Rubrik eliminates backup software by integrating data protection, instant recovery, and DevOps infrastructure into a single fabric.
Not a bad week, huh?
The funding round, which was led by Greylock Partners, brings Rubrik's 2015 investment total to $51 million after a $10 million dollar Series A  funding round made by Lightspeed Venture Partners in March. There has been a lot of demand for Rubrik's data management solution, and the company has made waves in the $47 billion dollar data management market.
According to IDC, an industry analyst firm, business will spend $47 billion dollars on infrastructure to protect data, manage disaster recovery, enable DevOps, and archive for compliance and long-term retention in 2015. This is where Rubrik comes in.
Bipul Sinha, CEO at Rubrik explains: "We are truly humbled by the tremendous response to our Early Access Program announced in March. This early customer traction demonstrates the latent market demand for a platform that delivers radical improvements in TCO while eliminating a complex data management infrastructure with a simple, converged system."
Rubrik's r300 Hybrid Cloud Appliance comes pre-configured with the Rubrik Converged Data Management Platform. The benefits of r300 include:
Simple setup: Set up shop in under 15 minutes, compared to months with other backup or disaster recovery solutions
Recovery in no-time: Rubrik can be used as a mountable live storage device so users can instantly recover applications
Public cloud: Delivering long-term data retention by leveraging public cloud storage
"Google-like" search capabilities: Swiftly locate any data with predictive search results based on data stored across public and private clouds
Accelerated application development: Quickly provision data to developers by turning Rubrik's solution into endpoint storage
Rubrik claims that their offering eliminates the need for individual backup and disaster recovery solutions. If so, and their converged data management product takes off as it looks like it will, the industry could be in for a giant shakeup.
Click here for the official press release.

Latest posts by Timothy King
(see all)