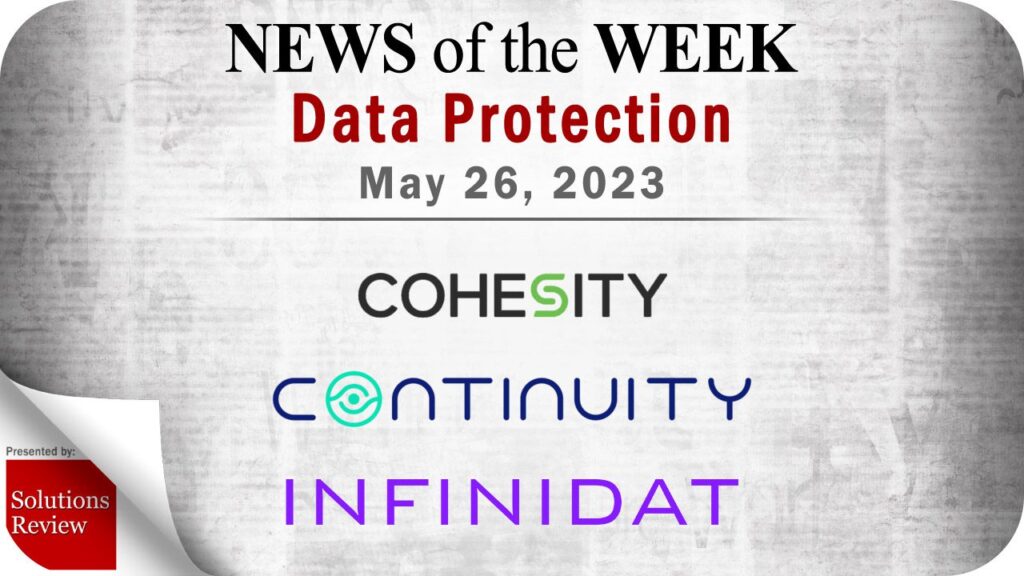 Solutions Review editors curated this list of the most noteworthy storage and data protection news items for the week of May 26, 2023.
Keeping tabs on all the most relevant storage and data protection news can be a time-consuming task. As a result, our editorial team aims to provide a summary of the top headlines from the last week, in this space. Solutions Review editors will curate vendor product news, mergers and acquisitions, venture capital funding, talent acquisition, and other noteworthy storage and data protection news items.
Top Storage and Data Protection News for the Week of May 26, 2023
11:11 Systems Named Veeam Cloud & Service Provider of the Year, North America
11:11 Systems is a managed infrastructure solutions provider that holistically addresses the challenges of next-generation managed cloud, connectivity and security requirements. The 11:11 model empowers customers and partners to "Rethink Connected," which includes integrated services that deliver increased performance, optimization and savings.
Arcitecta and Spectra Logic Unveil JointScale-Out NAS and Object Storage Solutions
Computing performance is critical for enhancing agility and gaining the competitive edge necessary to drive business growth and success. The combined Mediaflux and Spectra BlackPearl solutions are designed to provide exceptional performance, scale, security, and efficiency, enabling data to be processed quickly by any NFS, SMB or S3 application or workflow.
CIOReview Names Cobalt Iron a 2023 Top IBM Solution Provider
The designation is thanks to the company's Compass enterprise SaaS backup platform for monitoring, managing, provisioning, and securing the entire enterprise backup landscape. A technology partner for IBM, Cobalt Iron ensures cyber protection and resiliency for backup environments.
CloudCasa Featured in General Availability Announcement of Kubernetes Apps in Azure Marketplace
CloudCasa already provides native integration with Azure Kubernetes Service (AKS), Amazon Elastic Kubernetes Service (EKS) and Google Kubernetes Engine (GKE). CloudCasa allows AKS users to register their Azure accounts and automatically discover their AKS clusters, centralize backup policy management across Azure regions and Azure accounts, and dramatically reduce the time to recover AKS clusters and their data with full stack recovery.
Cohesity Partners With Google Cloud on Generative AI and Data Capabilities
The company said that with this strategic partnership with Google Cloud and the introduction of Cohesity Turing, organizations can confidently make use of their complete data ecosystem thanks to a secure and unified workflow that seamlessly integrates on-premises, multicloud and edge environments.
Continuity Software Joins Dell Technologies ETC Program
It's not just ransomware that's top of mind for security and storage teams. Auditors and cyber insurance firms are now taking a much closer look at the security of storage & backup systems, as well as regulatory bodies and industry standards.
Infinidat Expands Support for Hybrid Cloud Storage Deployments with InfuzeOS Cloud
Hybrid cloud storage solutions enable IT managers to modernize their storage services, on-prem, and in the public cloud to deliver mobility, cyber storage resiliency, and increased operational efficiency. Infinidat is putting its comprehensive, software-defined storage capabilities into the public cloud to enable and support the hybrid cloud storage deployments of enterprise customers.
KIOXIA Introduces New BG6 Series SSDs
The KIOXIA BG6 Series unlocks back-end flash performance while maintaining affordability and increasing capacity, making it an especially attractive option for commercial and consumer notebooks and desktops. KIOXIA BG6 drives support the fully matured Host Memory Buffer (HMB) technology, which utilizes part of the host memory (DRAM) as if it were its own, to realize a DRAM-less, high-performance SSD.
New Redis Cluster from Pliops Accelerates Redis Services
This new solution provides unique benefits for current Redis customers – allowing them to seamlessly extend large data sets to flash storage and experience in-memory type performance. It also empowers Redis users to achieve faster data processing with sub-millisecond latency for large data sets, making for a compelling and cost-effective user experience and allowing more value to be extracted from data.
Resilio Achieves 100+ GBPS File Data Transfer Speeds
Preliminary internal tests have reached peak speeds over 100 Gbps. Cloud scenarios tested include transferring a 1 TB data set between Microsoft Azure regions in 90 seconds, and transferring a 500 GB data set in Google Cloud from London to Australia in 50 seconds.
New Veeam Research Finds 93 percent of Cyber Attacks Target Backup Storage
The survey examines key takeaways from these incidents, their impact on IT environments and the steps taken, or needed, to implement data protection strategies that ensure business resiliency. This research report encompasses four different roles involved in cyber-preparedness and/or mitigation including, security professionals, CISOs or similar IT executives, IT Operations generalists, and backup administrators.
NVIDIA Secures US Government Grant to Tackle Data Center Thermals
Two years after he spoke at a conference detailing his ambitious vision for cooling tomorrow's data centers, Ali Heydari and his team won a $5 million grant to go build it. It was the largest of 15 awards in May from the U.S. Department of Energy.
Expert Insights Section
Watch this space each week as Solutions Review editors will use it to share new Expert Insights Series articles, Contributed Shorts videos, Expert Roundtable and event replays, and other curated content to help you gain a forward-thinking analysis and remain on-trend. All to meet the demand for what its editors do best: bring industry experts together to publish the web's leading insights for enterprise technology practitioners.
Solutions Review Set to Host Snowflake, Satori, and Monte Carlo for Expert Roundtable on June 8
In this expert roundtable discussion, our panelists will share their experiences, discuss best practices for integrating technology solutions, and offer guidance for establishing a sustainable information risk program for ensuring the governed accessibility to sensitive corporate data. The 60-minute virtual event is moderated by an independent industry analyst, with a topic introduction hosted by Solutions Review – all broadcast live to an audience of registered attendees.
For consideration in future storage and data protection news roundups, send your announcements to the editor: tking@solutionsreview.com.