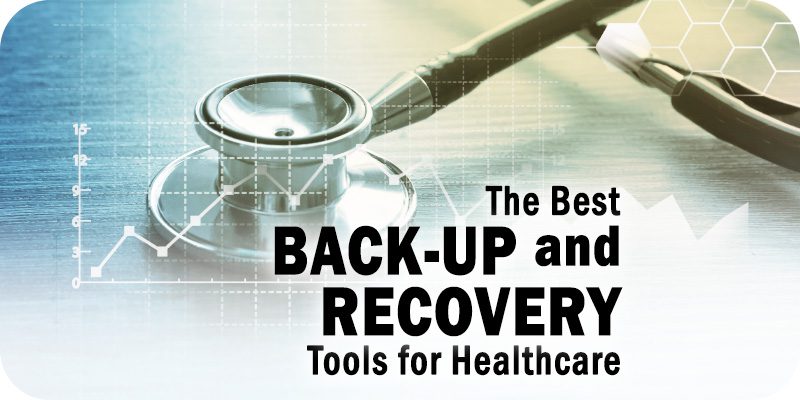 Solutions Review's listing of the best disaster recovery tools for healthcare is an annual mashup of products that best represent current market conditions, according to the crowd. Vendors are assessed if they have a dedicated offering designed for professionals in this industry.
The editors at Solutions Review have developed this resource to assist buyers in search of the best disaster recovery tools for healthcare to fit the needs of their organization and use case. Choosing the right vendor and solution can be a complicated process — one that requires in-depth research and often comes down to more than just the solution and its technical capabilities. To make your search a little easier, we've profiled the best disaster recovery tools for healthcare providers all in one place. We've also included links to each company's industry-specific product pages so you can learn more.
Note: The best disaster recovery tools for healthcare are listed in alphabetical order.
The Best Backup and Disaster Recovery Tools for Healthcare

Barracuda Networks offers a complete cloud-integrated solution to protect physical and virtual environments that includes software, appliance, and offsite replication. The solution is simple to deploy, easy to manage, and offers users unlimited cloud storage. With an extensive range of supported environments and integration with copy file sync and share services, organizations can replace multi-vendor piecemeal backup solutions with an all-in-one appliance. The platform supports replication to another Barracuda appliance for private-cloud data protection or secure transfer to the Barracuda Cloud. In 2020, Barracuda acquired Fyde for an undisclosed amount.
Carbonite offers enterprise cloud-based backup, recovery, and storage solutions. The Carbonite Data Protection Platform allows organizations to deploy the right form of protection for each type of data in their systems—from long-term backup to rapid recovery, data migration, and endpoint protection. The vendor's Cloud Disaster Recovery centralizes data backup and recovery on all computers distributed throughout an organization's locations. Agents automatically back up the data over the internet to a highly secure data center. Additionally, in December 2019, OpenText acquired Carbonite.
Cobalt Iron's flagship SaaS-based backup solution, Compass, reduces complexity and the amount of time spent on backup. Additionally, the software improves overall data protection performance. The enterprise data protection platform offers four main product components: Commander, Analytics Engine, Accelerators, and Accelerator Operating System. With this solution, users can access a range of analytics, driven data management capabilities through a unified web user experience. Additionally, the solution offers ransomware detection, alerting and notification, remediation capabilities, and is available in AWS, Azure, Google, IBM, and Alibaba.
Cohesity is a data management company that manages, protects, and extracts value from enterprise data. The provider's flagship tool, Cohesity DataProtect, safeguards a wide range of data sources on a single web-scale platform. The solution can be deployed on-premises on qualified platforms in the data center, public cloud, and on the edge. Additionally, the platform utilizes a scale-out architecture that starts with a minimum of three nodes and scales without disruption by adding nodes to the cluster. Through this solution, users have the ability to use backup data directly on the platform without needing to restore it, which allows for the consolidation of other use cases, including dev/test and analytics.  Recently, Cohesity raised $250 million in Series E funding.

Commvault provides data protection and information management software to help organizations protect, access, and use all of their data economically. The vendor has a long list of supported public cloud providers, hypervisors, big data support, and database protection. The platform is primarily offered as a software-only solution, but Commvault also has an appliance option and an enterprise-grade SaaS offering for backup and recovery through Metallic. Commvault also acquired the data storage solution provider, Hedvig. The vendor's software, solutions, and services are available directly through the company, as well as through a global ecosystem of partners.
Datto offers backup and disaster recovery appliances, Software as a Service (SaaS) data protection, and managed networking products. The provider has more than 5,000 managed service providers across the globe that sell its products. Datto also boasts nine data center locations worldwide, including the U.S., Canada, Iceland, the U.K., Germany, Australia, and Singapore. Datto is offered for data on-prem in a physical or virtual server or in the cloud via SaaS applications. The vendor is completely channel-driven and recently released SIRIS 4, a business continuity and disaster recovery solution built for MSPs. In 2020, Datto went public and acquired Gluh.
Dell EMC's backup and recovery solution is a prepackaged backup suite made up of several different components available for individual sale. These include Avamar, Networker, and Data Protection Adviser, with options for cloud backup and archiving. Dell EMC's solutions give a full range of data protection, from archive to continuous availability for physical, virtual, and cloud environments. The provider enables digital transformation through hybrid cloud and big-data solutions built on a modern data infrastructure, bringing together converged infrastructures, storage, and servers. The recently launched all-in-one Integrate Data Protection Appliance combines Data Domain with Avamar and DD Boost for Enterprise Applications. 
IBM offers a wide range of technology and consulting services, including predictive analytics and software development. The vendor's backup and disaster recovery solution, Spectrum Protect, is a data protection platform that gives enterprises a single point of control and administration for backup and recovery. It enables backups and recovery for virtual, physical, and cloud environments. The tool also offers VM protection with a searchable catalog and role-based administration. IBM Spectrum Protect is a suite of software offerings designed to help organizations manage and protect their data by simplifying backup administration. 
Infrascale offers an enterprise-grade disaster recovery solution that provides failover to a second site with the flexibility to boot from the appliance or cloud. The product is delivered as a physical or virtual appliance and includes disaster recovery software. Infrascale's dashboard simplifies data protection management by providing a single view through which the entire suite of services is deployed. An administrative dashboard, accessible from any browser or device, makes it easy to recover mission–critical applications and systems with pushbutton simplicity.
Micro Focus offers scalable solutions with built-in hybrid IT management analytics, security, and data management. The vendor merged with HPE in 2017 and now provides Data Protector, a comprehensive, centrally managed backup and recovery software for physical and virtual environments. Data Protector offers high-performing backup and recovery across various data repositories, applications, and remote sites in physical and virtual environments. It standardizes and consolidates backup and recovery processes so businesses can improve reliability, gain business resiliency, and reduce costs. 
Rubrik primarily provides data protection and data management in hybrid IT environments with its flagship product, Rubrik Cloud Data Management (RCDM). The platform is a scale-out-architecture-based data protection tool with cloud integration, live mount for Oracle Databases, support for Office 365 backup, and support for SAP HANA backup. Additionally, in 2018 Rubrik acquired Datos IO, a company specializing in data protection of NoSQL databases. The vendor also offers Polaris Radar, a solution that provides ransomware detection and remediation. Rubrik's solution is recommended to buyers looking to protect highly virtualized on-prem environments and hybrid environments that leverage Microsoft Azure and Amazon Web Services (AWS). 
Unitrends Enterprise Backup provides a package of on-prem backup, backup to the cloud, cloud-to-cloud Infrastructure as a Service (IaaS) backup, and Disaster Recovery as a Service (DRaaS) via integrated appliances and software–only offerings. The provider leverages high-availability hardware and software engineering with support services to provide all-in-one backup and continuity. Unitrends also offers hypervisor host-level security for VMWare, Hyper-V, and XenServer and more traditional security for physical servers and databases. Unitrends, a Kaseya Company also provides Recovery Assurance, available with Enterprise Plus, which delivers automated, application–level consistency sandbox testing of physical servers, Microsoft Hyper-V, or VMware vSphere VMs.  
Veeam Backup & Replication is a data protection and disaster recovery solution for virtual environments of any size. It provides fast, flexible, and reliable recovery of virtualized applications and data. The provider unifies backup and replication in a single solution, increases the value of backup, and reinvents data protection for VMware VSphere and Microsoft Hyper-V virtual environments. Veeam offers free promotions for physical server backup and O365 Exchange Online. The solution also features data center functions, including tape support and snapshot storage integration, along with key deduplication backup integration. Recently, Veeam was acquired by Insight Partners for $5 billion.  

Latest posts by Timothy King
(see all)