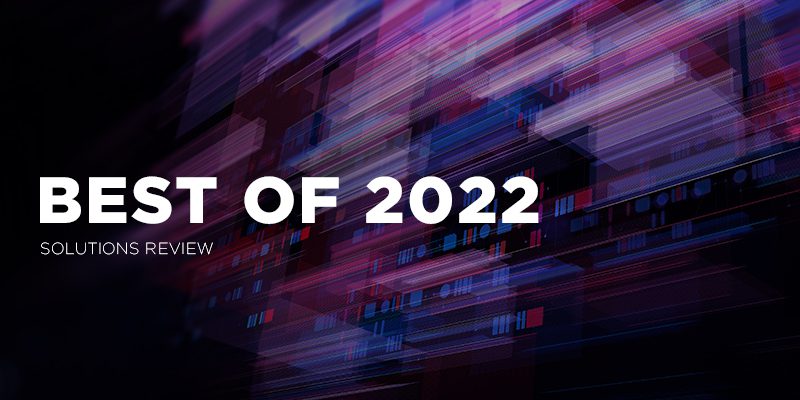 Solutions Review's listing of the best data replication tools for disaster recovery is an annual mashup of products that best represent current market conditions, according to the crowd. Our editors selected the best data replication tools for disaster recovery on each solution's Authority Score; a meta-analysis of real user sentiment through the web's most trusted business software review sites and our own proprietary five-point inclusion criteria.
The editors at Solutions Review have developed this resource to assist buyers in search of the best data replication tools for disaster recovery to fit the needs of their organization. Choosing the right vendor and solution can be a complicated process — one that requires in-depth research and often comes down to more than just the solution and its technical capabilities. To make your search a little easier, we've profiled the best data replication tools for disaster recovery all in one place. We've also included platform and product line names and introductory software tutorials straight from the source so you can see each solution in action.
Note: The best data replication tools for disaster recovery are listed in alphabetical order.
The Best Data Replication Tools for Disaster Recovery
Platform: Acronis Cyber Protect
Description: Acronis offers backup, disaster recovery, and secure file sync and share solutions. The company also provides data protection in any environment, including virtual, physical, cloud, and mobile. The company's Cyber Protect offering natively integrates cybersecurity, data protection, and management to protect endpoints, systems, and data. The product features an advanced AI-based behavioral detection engine, full-image and file-level backup, and metadata collection for security forensics.
Platform: Carbonite Availability
Description: Carbonite Availability features continuous replication technology that maintains an up-to-date copy of an organization's operating environment. It does this without taxing the primary system or network bandwidth. The product is designed to be installed on primary systems and the secondary target and creates a replica of the primary system at the secondary location. When a failure occurs, the secondary systems go live and DNS re-routes the users. Depending on the system setup, users may not even realize they are running on the target system.
Platform: Dell EMC RecoverPoint
Description: Dell EMC RecoverPoint replication provides continuous data protection to recover any application on any supported storage array. The product is designed to support disaster recovery and testing. Key features include the ability to replicate data over any distance, data distribution and consolidation, and a 3-point MetroPoint topology disaster recovery with VPLEX Metro continuous availability.
Platform: IBM Spectrum Protect
Description: IBM offers a wide range of technology and consulting services, including predictive analytics and software development. The vendor's backup and disaster recovery solution, Spectrum Protect, is a data protection platform that gives enterprises a single point of control and administration for backup and recovery. It enables backups and recovery for virtual, physical, and cloud environments. The tool also offers VM protection with a searchable catalog and role-based administration. IBM Spectrum Protect is a suite of software offerings designed to help organizations manage and protect their data by simplifying backup administration. 
Platform: NAKIVO Backup & Replication
Description: NAKIVO offers a data protection solution for VMware, Hyper-V, cloud, and AWS EC2 environments. The vendor boasts five-star online community reviews, impressive customer support scores, and more than 10,000 global deployments. Over 150 hosting, managed, and cloud services providers use NAKIVO's software to deliver virtual machine Backup as a Service (BaaS) and Disaster Recovery as a Service (DRaaS) to their customers. The vendor also has over 4,200 channel partners in 140 countries. 
Platform: NetApp SnapMirror
Description: NetApp SnapMirror replicates data at high speeds over LAN or WAN, offering customers high data availability and data replication for business-critical applications. When users replicate data to one or more NetApp storage systems and continually update the secondary data, the data is kept current and remains available without the need for external replication servers. The product also enables you to easily manage replication between storage endpoints from flash disk to the cloud.
Platform: Quest SharePlex
Description: Quest Software's SharePlex solution offers database replication for high availability, scalability, and reporting. The tool lets you replicate Oracle data and avoid data loss in flight with built-in monitoring, conflict resolution, data comparison, and synchronization. It replicates data and updates immediately and helps to alleviate I/O resources. Quest also offers excellent support while solving for multiple use cases like migrations, upgrades, offload reporting and more.
Platform: Rubrik Cloud Data Management
Description: Rubrik primarily provides data protection and data management in hybrid IT environments with its flagship product, Rubrik Cloud Data Management (RCDM). The platform is a scale-out-architecture-based data protection tool with cloud integration, live mount for Oracle Databases, support for Office 365 backup, and support for SAP HANA backup. The vendor also offers Polaris Radar, a solution that provides ransomware detection and remediation. Rubrik's solution is recommended to buyers looking to protect highly virtualized on-prem environments and hybrid environments that leverage Microsoft Azure and Amazon Web Services (AWS). 
Platform: Veeam Backup & Replication
Description: Veeam Backup & Replication is a data protection and disaster recovery solution for virtual environments of any size. It provides fast, flexible, and reliable recovery of virtualized applications and data. The provider unifies backup and replication in a single solution, increases the value of backup, and reinvents data protection for VMware VSphere and Microsoft Hyper-V virtual environments. Veeam also offers free promotions for physical server backup and O365 Exchange Online. The solution features a variety of data center functions as well.
Platform: Zerto Platform
Description: Zerto offers an IT Resilience Platform which combines backup, disaster recovery, and cloud mobility into one converged solution. Through an enterprise-scale, the provider's software platform delivers continuous availability, which minimizes downtime. Additionally, IT Resilience simplifies workload mobility to freely protect, recover, and move applications across hybrid and multi-clouds. Users can replace their legacy solutions through Zerto's single platform as well. Zerto also powers resiliency offerings for Microsoft Azure, IBM Cloud, and AWS.

Latest posts by Timothy King
(see all)