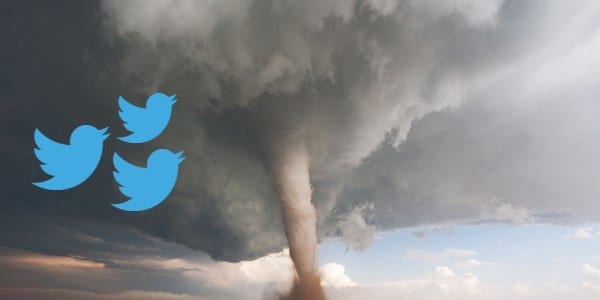 If you're trying to fill your Twitter feed with tech news, best practices, new product information, and helpful tips on business continuity and IT disaster recovery, you've come to the right place! The Twitterverse is a great place to be if you want to stay up-to-date with and learn more about whatever topic interests you. Whether you are a small business owner or the CEO of an enterprise company, your data is vital to your success, so it's important to stay in tune with what's going on. The Twitter machine can help you do just that.
Of the 500 million registered Twitter users, we narrowed it down to just the ones who tweet about continuity and disaster recovery. From there, we picked our top 5 follows – the ones who provide new product announcements, tips, tricks, how-to's, and relevant information as it relates to BC and DR in IT.
Here are our top 5 BC and DR Twitter follows:
1. Jim Mitchell (@JMitchell52): Mitchell is a business continuity industry author, speaker, and blogger. He is also the Director at eBRP Solutions Network. He tweets a lot about things impacting the continuity space while regularly posting learning material and articles that really get you thinking. He's a worthwhile addition to any IT professional's timeline.
2. sDisasterRecovery (@SearchDRTT): This is TechTarget's official resource on disaster recovery, and they tweet out advice on operations design, storage, and network optimization. They also regularly share other disaster recovery planning tips.
3. Disaster Recovery Journal (@drjournal): The Disaster Recovery Journal is the leading publication and event in the BC and DR industry, regularly posting general advice, best practices and information about upcoming events and how to get involved. Their website has a ton of great resources, analyst reports, a glossary, and even a mobile app.
4. Continuity Insights (@ContinuityMag): Continuity Insights is a handle dedicated to helping businesses prepare for disruptions to normal business operations. They post reaction to real-world events that may have an impact on normal business operations while also covering any relevant news from within the enterprise that may be of value to their followers. They are an interesting follow because they don't just post the boring "why your company needs to do X to survive a disaster" kind of stuff. Very few lame tweets being sent out by the folks at Continuity Insights. A recommended addition to your feed.
5. Dejan Kosutic (@Dejan_Kosutic): Kosutic is an expert in information security management and business continuity management using the ISO 22301/BS 25999-2 standard, and is the heaviest hitter of the bunch with almost 39,000 followers. He tweets industry news and reaction to security and BC events, and is a worthwhile follow if you're interested in how security and business continuity are interconnected.
Happy tweeting, and don't forget to to follow me on Twitter @BigData_Review for Backup and Disaster Recovery news, product releases, and best practices.

Latest posts by Timothy King
(see all)