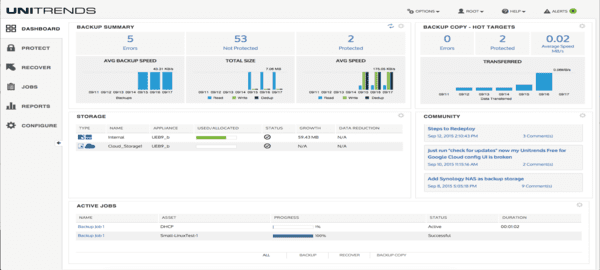 Yesterday, Unitrends announced the availability of version 9.0 of their data protection technology which enables IT professionals to recover not only data and systems, but also their time and confidence. The updated offering reconciles simplicity with comprehensive protection by making it easier than ever before for organizations to use and manage the company's cloud-empowered backup and recovery solutions.
With improving backup and recovery consistently being ranked as a top priority amongst IT professionals, enterprises need to focus on executing their business plans, not wasting time on inefficient data protection and recovery tactics. Unitrends 9.0 delivers a solution that gives business users what they really need; the freedom to focus on their own company. The solution features automation, intelligent reporting, and a breakthrough, intuitive user interface that dramatically reduces the time required for routine tasks:
User experience reigns supreme
Unitrends 9.0 features a straightforward and intuitive user interface that makes it easy for users to focus on the tasks at hand. The solution is powered by the same software which powers Unitrends Recovery Series physical appliances, Unitrends Backup, Unitrends Free and Unitrends Cloud. The user-centric dashboard and screens reduce entry errors, training time and support costs, which enables IT departments to boost their productivity in achieving corporate data protection and business continuity.
Recovery assurance provides peace of mind
The new release features seamless integration with Unitrends ReliableDR and also delivers the industry's first recovery assurance for physical Windows backups in addition to VMware vSphere and Microsoft Hyper-V applications. IT users now have the tools to validate the recovery of multi-tiered applications across virtual and physical environments, which is a vital need for non-virtualized, mission-critical physical windows servers.
Exceptional user experience, even better pricing
Unitrends has made it even easier to purchase its all-in-one backup and recovery software by rolling out a new pricing structure, offering five different editions – Unitrends Free, Essentials, Standard, Enterprise and Enterprise Plus, all of which come with the company's award-winning 24/7 customer support.
Unitrends' President, CEO and Chairman Kevin Weiss explains: "With Release 9.0, we have completely revolutionized how organizations buy, use and manage backup and recovery solutions. We've cracked the code, eliminating complexity and cost constraints while delivering comprehensive data protection for physical, virtual and cloud environments – and the market's initial response has been overwhelmingly positive. IT professionals get easy-to-use, best-in-class solutions that also liberate them to recover much more than just data."