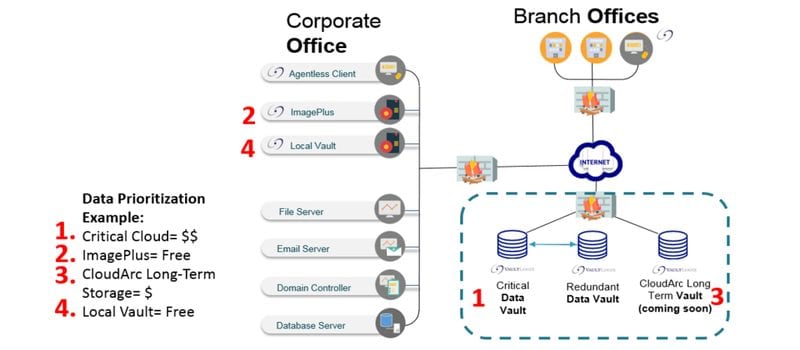 In a recent release, VaultLogix, a business-class cloud backup provider for SMBs and enterprise organizations, announced the release of CloudArc long-term archive storage service, part of the Advantage hybrid backup tool. VaultLogix takes the stance that "not all data is created equal", and CloudArc builds upon the company's data prioritization strategy by adding the long-term archiving component to their cloud backup platform.
In an era where cloud backup vendors have upped their prices due to high demand, VaultLogix has chosen a different route, helping to save data-driven organizations time, and more importantly, money. Using a prioritization strategy allows for stakeholders to assign different levels of protection to different types of data:
Priority 1: Critical cloud; critical data offsite
Priority 2: ImagePlus; store a free local image for fast recovery
Priority 3: Low-cost cloud archiving; prefer offsite but don't want to pay for it
Priority 4: Local backup; free local backup for additional files
Data prioritization allows organizations to decide what level of backup protection they would like different data to have, which can all be managed from a single pane. There are four main components to the CloudArc tool. For the most critical data that that needs to be offsite there is the VaultLogix Critical Cloud. For speedy Disaster Recovery, the company provides its customers with the ability to store an image locally with no added cost. Additionally, CloudArc provides users with the ability to get less-critical data offsite, and unlimited local backup gives clients the flexibility to store any amount of files locally to a device of their choice.
According to the company: "Data Prioritization from VaultLogix simplifies day to day operations for clients and resellers by allowing them to deal with a single vendor, single bill and control all backups from a single interface."
Click here for the full press release.