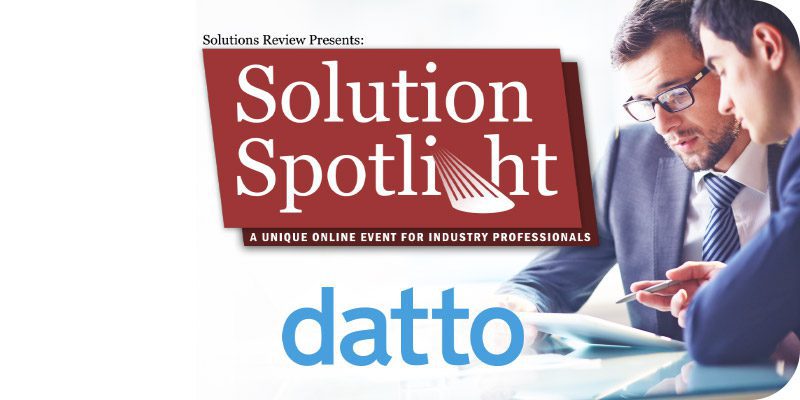 Solutions Review's Solution Spotlight with Datto, a Kaseya Company, is entitled: Re-Imagining Endpoint Security with Datto EDR.
What is a Solution Spotlight?
Solutions Review's Solution Spotlights are exclusive webinar events for industry professionals across enterprise technology. Since its first virtual event in June 2020, Solutions Review has expanded its multimedia capabilities in response to the overwhelming demand for these kinds of events. Solutions Review's current menu of online offerings includes the Demo Day, Solution Spotlight, best practices or case study webinars, and panel discussions. And the best part about the "Spotlight" series? They are free to attend!
Why You Should Attend
Solutions Review is one of the largest communities of IT executives, directors, and decision-makers across enterprise technology marketplaces. Every year over 10 million people come to Solutions Review's collection of sites for the latest news, best practices, and insights into solving some of their most complex problems.
With the next Solution Spotlight event, the team at Solutions Review has partnered with leading managed service provider Datto to provide viewers with a unique webinar called Re-Imagining Endpoint Security with Datto EDR.
Speakers
Chris Gerritz, Director of Information Security

:

Chris joined Datto through the 2022 acquisition of Infocyte, Inc., a detection and response technology company. As co-founder of Infocyte, he led the company from its inception as chief executive and head of product. From a decade of military service, Chris draws on both leadership and deep technical experience serving as a cryptographic systems maintainer, cyber warfare officer, and pilot. In his final assignment, Chris established the U.S. Air Force's elite Defensive Counter-Cyber (DCC) practice.
About Datto, a Kaseya Company
Datto offers a family of enterprise business continuity solutions available in both physical and virtual platforms. The new Backup Insights tool gives you a complete picture of how files and folders have changed over time, adding versioning to the file restore capabilities. Datto utilizes Hybrid Cloud technology to improve redundancy and give users greater protection of their systems and data. Hybrid Cloud technology leverages the advantages of local backup and the security of the cloud.

FAQ
What: Re-Imagining Endpoint Security with Datto EDR
When: Wednesday, May 17, 2023, at 2:00 PM Eastern Time
Where: Zoom meeting (see registration page for more detail)