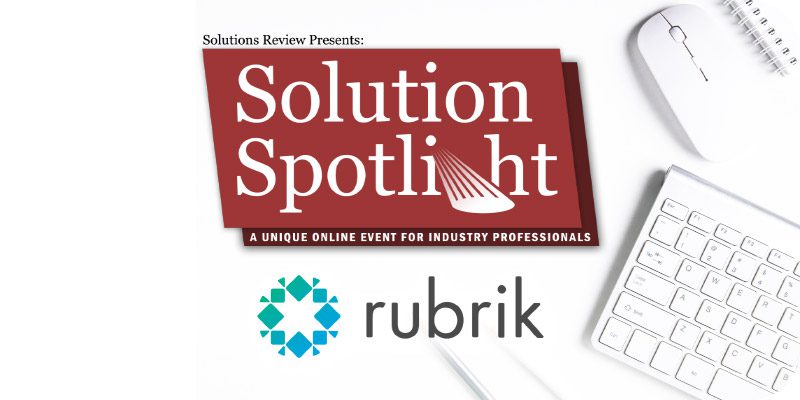 Solutions Review's Solution Spotlight with Rubrik is entitled: Introduction to Rubrik: Zero Trust Data Protection.
What is a Solution Spotlight?
Solutions Review's Solution Spotlights are exclusive webinar events for industry professionals across enterprise technology. Since its first virtual event in June 2020, Solutions Review has expanded its multimedia capabilities in response to the overwhelming demand for these kinds of events. Solutions Review's current menu of online offerings includes the Demo Day, Solution Spotlight, best practices or case study webinars, and panel discussions. And the best part about the "Spotlight" series? They are free to attend!
Why You Should Attend
Solutions Review is one of the largest communities of IT executives, directors, and decision-makers across enterprise technology marketplaces. Every year over 10 million people come to Solutions Review's collection of sites for the latest news, best practices, and insights into solving some of their most complex problems.
With the next Solution Spotlight event, the team at Solutions Review has partnered with leading data protection vendor Rubrik to provide viewers with a unique webinar called Introduction to Rubrik: Zero Trust Data Protection.
Speakers
Phil McGowan, Sales Engineer

:

Phil is a Certified Information Systems Security Professional who enjoys working with customers to secure enterprise data. Prior to joining Rubrik, Phil worked for cybersecurity vendor Proofpoint after working previously as a Sales Engineer for business continuity vendor Datto.
About Rubrik
Rubrik is one of the most widely used enterprise data protection solutions in the world. Rubrik provides data protection and data management in hybrid IT environments. The platform is a scale-out-architecture-based data protection tool with cloud integration, live mount for Oracle databases, support for Office 365 backup, and support for SAP HANA backup. Rubrik's solution is recommended to buyers looking to protect highly virtualized on-prem environments and hybrid environments that leverage Microsoft Azure and AWS.

FAQ
What: Introduction to Rubrik: Zero Trust Data Protection
When: Tuesday, April 11, 2023, at 12:00 PM Eastern Time
Where: Zoom meeting (see registration page for more detail)