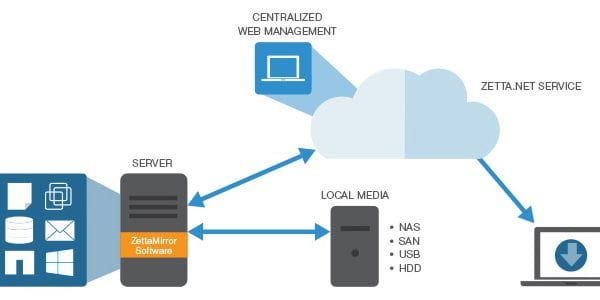 Zetta has announced the latest version of its DataProtect solution, stating that the new offering has broken performance records with a direct-to-cloud backup speed that is 13 times faster than appliance cloud backup speeds. Zetta also claims that version 4.7 performs 2.5 times faster than backups performed locally to backup appliances. These benchmarks were validated by third party testing. For the first time, version 4.7 provides users with the capability to back up simultaneously to local devices as well as the cloud, with speeds that are faster than traditional LAN backup to local devices or disks.
As a result of these speed enhancements, businesses can backup as much as 200TB of data in a shorter time period and have disaster recovery protection in just three hours.
DataProtect's direct-to-cloud tool reduced deployment time, scales to meet ever-increasing data requirements, and cuts administration costs. Users are granted improved data workflow through the employment of WAN acceleration technologies which rapidly transfers data. In the event of a disaster, the solution's appliance free solution helps users avoid the delays inherent in waiting for a replacement appliance.
Key features of DataProtect 4.7 include:
Protecting more data in a shorter backup window: Version 4.7 leverages Zetta's WAN optimization technology to enable data transfer 14 times faster than the tested appliance, allowing for nightly backups of large datasets.
200TB in the cloud: With a 1 gigabit per second connection and a 2 percent change rate, the protected dataset could reach 200TB. This is based off of the third-party test.
Disaster recovery in 3 hours: Local and cloud backups performed simultaneously eliminate delay in transferring backups offsite, further reducing vulnerability to data loss and making sure data is immediately ready for recovery in the event of a disaster. In the third-party benchmark testing, DataProtect was ready in three hours.
Disaster recovery from anywhere: Version 4.7 uses an appliance-free approach so files, databases and server images can be restored from a mounted drive via a web-based browser from any location, without any specific hardware.
Gary Sevounts, CMO of Zetta explains: "Zetta.net's latest advancements in direct-to-cloud technology are making slow, cumbersome backup appliances obsolete. Zetta DataProtect's newest version allows users to more easily meet their backup windows and reduce their window of vulnerability with unprecedented speed, freeing them from costly, inefficient backup hardware."
For more information on the Mediatronics third-party testing done on Zetta's new BDR solution, click here. DataProtect 4.7 is now available.
Zetta's official press release can be seen here.