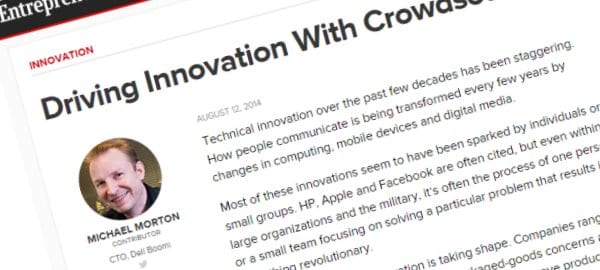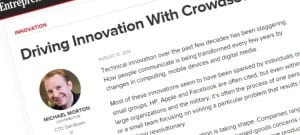 During this day and age, business people are privy to a wealth of information that can give them great insights into their customers' minds and perceptions about products or services. With the internet, mobile phones, and other digital media, organizations such as Apple, HP, Facebook have been trailblazers for crowdsourcing (the collection of input or information through contributions of a large group of people).
Crowdsourcing is a piece of big data that can be leveraged for advanced business intelligence. This is because advanced BI is the action of looking externally and tapping into the available ocean of data often in real time to create new corporate strategies. And with Big Data at the forefront of business intelligence, you can bet that crowdsourcing will play a large role in Big Data as well. In an article written by Michael Morton, CTO of Dell Boomi, called "Driving Innovation With Crowdsourcing," Morton states,
"Using the crowdsourcing model, companies might break Big Data projects into micro tasks that are then farmed out to the "crowd."
Morton goes on by shedding some examples of crowdsourcing starting at the beginning of time with academia and science using information discovered by many others to drive innovation. And more recently, the development of open source software which has collected the thoughts of many programmers to foster innovations that benefit the entire technology community. More specifically, Morton discusses how Anheuser-Busch used crowd-sourcing to create a new beer called Black Crown.
Through Morton's experience working on cloud-based application integration at Dell Boomi, where crowdsourcing was integral in gaining deeper insight into issues that caused problems with their software, he analyzed the information to make improvements and prevent future problems. From these anecdotes, he was able to compile a list of 5 crowdsourcing tips for business serious about business intelligence.
Below are the 5 crowdsourcing tips taken directly from Michael Morton.
+ Check Out a Free 2014 Business Intelligence Tools Buyers Guide
1. Be prepared for the deluge of data.
Depending on the company's use case, the organization may suddenly be collecting huge volumes of data. Is the IT department prepared?
2. Have an analytics solution in place.
Benefiting from all the collected information will likely require some form of analytics. Ensure that the analytics solution is up to the task.
3. Consider integrating multiple data sources.
Determine whether it's necessary to integrate data from multiple sources (such as from the crowd and a customer-relationship management system), and select an integration solution with swift processing. A data integration project that takes months to complete may doom a crowdsourcing strategy before it starts.
4. Address security and compliance issues.
Short-circuit any objections to the strategy by anticipating the needs of the data security, legal and compliance teams.
5. Make it about the customers.
When asking customers or partners to participate in a crowdsourcing project, be clear about how they will benefit. Allow consumers to opt out, but be clear in explaining the benefits they will miss out on by not contributing.
Click here to read the entire article by Michael Morton, CTO of Dell Boomi, called "Driving Innovation With Crowdsourcing."

Latest posts by Doug Atkinson
(see all)