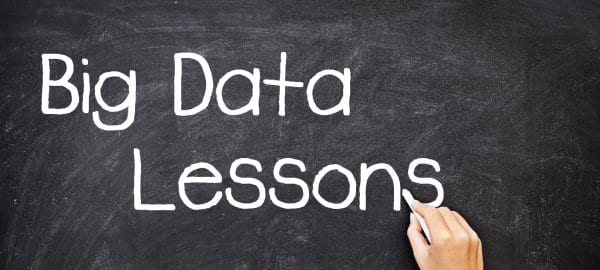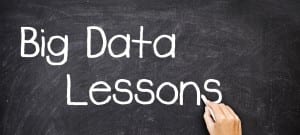 There's an old adage that states that a smart man learns from his mistakes and a wise man learns from the mistake of others. This adage was derived from a similar statement made by a German Chancellor in the late 1800s. It basically implies that learning from others is the best approach to learning and in the case of big data, it's no different.
Today, the concept of big data is ubiquitous and largely associated with big companies who have huge data environments. Although in a recent survey by Competitive Edge Reports, 96 percent of mid-market companies are either using big data or planning to start a big data initiative. By learning from the mistakes of big companies, mid-size companies can more efficiently and effectively feast on the fruits harvested from big data.
In a recent article in CMSWire titled, "5 Lessons About Big Data from Big Companies", Joanna Schloss talks about some early mistakes in big data by large companies and what can be learned from them. Below is the list and snippets from the article.
+ Check Out a Free 2014 Business Intelligence Tools Buyers Guide
Lesson 1: Lack of alignment with executive stakeholders will derail any project. Schloss states, "Data analysis done right is not about technology. It's about business. Before you start any big data analytics project, you first need to secure the support of the company's executive stakeholders."
Lesson 2: Don't fixate on infrastructure savings. "Many big companies initially thought moving their archive data off legacy databases with expensive license requirements and onto the nearly free clusters of databases such as Hadoop would yield significant cost savings."
"While shifting data to these unstructured sources can in fact save your company on licensing costs, the labor required to architect, deploy and manage these systems can be significant – so significant that many large companies are finding that all they've done is shift costs from licensing to labor."
Lesson 3: Data scientists aren't quite unicorns, but they're close. "The number of people needed to support the deployment of big data technologies has overwhelmed the pool of IT resources. If deep-pocketed enterprise companies can't go out and hire the talent they need, chances are you won't be able to either. There simply aren't enough data scientists in the world today, nor will there be in the foreseeable future. Instead of focusing on finding a single data scientist, you should instead focus on building data science teams from within your organization."
Lesson 4: Native analytics technology on big data platforms is limited. "Many enterprise companies have found it difficult to access and analyze data despite the implementation of a top-end big data platform. Fortunately, big data analytics is one of the hottest markets in all of IT. New providers with new offerings are sprouting up on what seems like a daily basis."
Lesson 5: Collaboration is key. " Line of business leaders in marketing, sales and other functional departments were led to believe they could successfully embark on data analysis projects without the help — and in some cases, without the knowledge — of IT. As they soon found out, however, while they might be tremendous innovators, line of business leaders are not equipped to manage, govern and scale data analytics products."
Click here to read the full article and learn how you can capitalize on the experiences of big data forerunners.

Latest posts by Doug Atkinson
(see all)