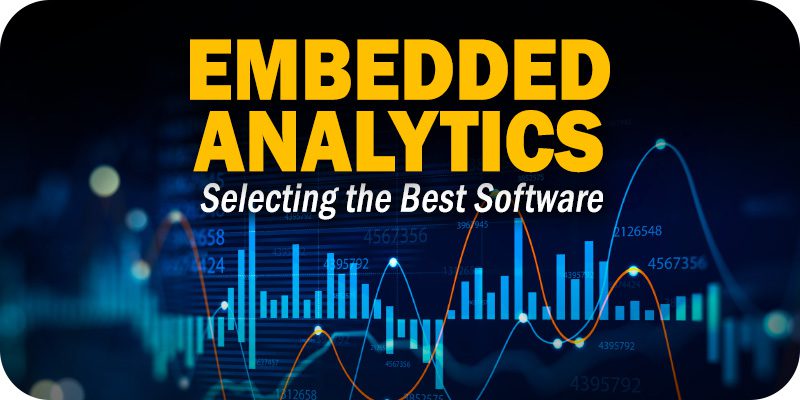 Solutions Review has created this guide to embedded analytics to help organizations select the best possible business intelligence product. For an even deeper evaluation of top embedded analytics software, we recommend using Qrvey's Embedded Analytics Product Fit Guide.
Embedded analytics can assist organizations in making data analytics accessible inside end-user tools, such as customer relationship management (CRM), enterprise resource planning (ERP), marketing, financial systems, and other software applications. Embedding analytics into existing workflows helps business users gain access to the capabilities they need without having to go outside of the environments they use daily to do so.
Users are often rewarded with faster, more informed, and more efficient decision-making, which can lead to more actionable insights. Embedding an analytics solution can also lead to better business value from the data that a business has already invested in capturing, storing, and analyzing.
Embedded BI remains one of the most important use cases in the overarching data analytics space, as organizations utilize the technology to create extranet applications and provide analytics as part of an overall business application. Those who look to embed analytics tools into their existing business processes tend to prioritize their requirements.
How to Select the Best Embedded Analytics Software
---
Some companies try to develop an in-house embedded solution but fail, as this approach can become complex. Organizations must be aware of the resources and time it takes to deploy a fully-functional embedded framework. Oftentimes, businesses that choose to build instead of buy stretch their resources too thin and end up with less than an optimal product. As a result, organizations are increasingly turning to embedded tools offered by many big data solution providers.
The solution providers in this niche are beginning to market to developers more commonly, as well as ensure that their products are more open. Openness is an attempt at enabling a wider swath of users to extend the functionality that is not included initially. Modern embedded BI products are expected to include a software developer's kit with APIs and support for open standards. These capabilities can reside outside the application, but it's best that they are easily accessible and do not force users to switch between systems.
The process for buying a standalone tool and an embedded analytics solution are very different. Buyers should be aware that embedded BI requires analysis flexibility and ease of analysis for non-technical users. Other major factors include the processing of embedding seamlessly into the host application, lifecycle management and distribution at scale.
There are a number of vendors who offer enterprise-class embedded tools, but you'll want to make sure you consider all of your options to choose the tool that best fits your next project. Consider the following evaluation criteria:
Data Access, integration, and management
End-user analytics functionality
How analytics are embedded within the application's user interface
Deployment and security
Extensibility, customization, and transparency
Services, support, and vendor experience
There are several questions you should consider asking yourself, or those within your organization, as you weigh an embedded analytics purchase. These examples can help you put together a more balanced attack plan when considering your options:
Why do you want to invest in embedded BI?
There are two main scenarios for which an organization seeks out embedded analytics. The first is that they are looking to reduce the time and resources spent on delivering reports required by their customers. Secondly, companies sometimes look to differentiate their core product by adding analytics. Embedded BI provides a way for companies to reduce churn and increase engagement.
Do you build or buy?
There are two options when it comes to deploying an embedded analytics solution, as organizations can either choose to build their own in-house product or purchase one from a third-party provider. Developing a platform from scratch could take a long time and cost a pretty penny. From a development standpoint, visualization tools don't require an extreme amount of work, but a great BI tool is about more than just looks; it has to perform.
Are there limits to embedding analytics into existing applications?
Embedded BI products have very few limitations and are often more powerful than standalone tools. Functionality like machine learning, natural language processing, and AI can be found within the new, more modern generation of embedded platforms while these capabilities are often not part of standalone solutions.
What should buyers be aware of during the vendor selection process?
The buying process can be complex due to the fact that it is different than purchasing a standalone tool. Users that have only deployed a traditional BI or data analytics product are cautioned to look past colorful charts and data visualizations. Buyers need to consider the long-run far beyond the initial installation process, especially when it comes to product maintenance, making changes across instances, and providing a simple but customized experience to the end-user.
Does embedded BI help you achieve your business objectives?
There a wide variety of great embedded business intelligence solutions that focus on a specific use case or niche in the market. However, just because a specific set of capabilities works for one organization does not necessarily mean it will do so for another. The first step in the vendor selection process is to identify those providers who offer products for your environment specifically. This ensures the best fit and an excellent launch point for installation and deployment.
It is critical for organizations to forecast how they will scale in the future. In today's rapidly evolving business landscape, the volumes and velocities of data that a company collects today may be different tomorrow. In order to avoid having to continually integrate and embed new tools for similar capabilities, select a solution that has the ability to scale with your business.
For an even deeper evaluation of top embedded analytics software, we recommend using Qrvey's Embedded Analytics Product Fit Guide.