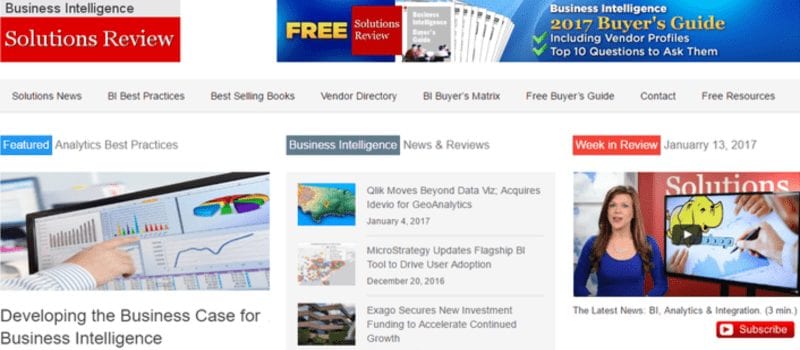 The Solutions Review team is proud to announce that the all new 2017 Business Intelligence Buyer's Guide is now available as a complimentary download to site visitors. The updated report features full, one-page profiles of the top solution providers with a detailed outline of their software offerings in an easy-to-digest guide, providing IT professionals with all of the critical information needed to identify analytics tools that best fit their needs. The guide also includes a complete evaluation of the enterprise marketplace, a capabilities reference, the top 10 questions to ask, and our bottom line analysis.
Business Intelligence feature offerings remain fractured. Legacy providers continue to offer dashboard and reporting capabilities that were traditional since widespread adoption of analytics solutions began. Analytics startups have entered the self-service camp, a market that has exploded in recent months. There is still plenty of room for the old and new of course, and deciding which solution best matches up with your organization largely depends on what kind of data environment you live in. As enterprises move away from IT-centric BI tools, they aim to deploy solutions that enable democratization and end-user autonomy.
This year's product includes five new vendors. Top providers highlighted include: Alteryx, Birst, BOARD, Datameer, Denodo, Domo, Dundas BI, Exago, GoodData, IBM, Information Builders, Logi Analytics, Looker, Microsoft, MicroStrategy, Oracle, Pentaho (Hitachi), Phocas, Prognoz, Pyramid Analytics, Qlik (Thoma Bravo), SAP, SAS, Sisense, Tableau, TARGIT, TIBCO, and Yellowfin.
The Solutions Review 2017 Business Intelligence Buyer's Guide eliminates the process of enterprise technology seekers of having to sift through endless vendor web pages and sales pitches to bring readers an agnostic view of the market, allowing for easier and more informed purchasing decisions.
The process used to create a Solutions Review Buyers Guide is grueling one. We are constantly monitoring all things data, including the solution providers themselves, market trends, best practices, and news and new product announcements to constantly and tirelessly ensure that our resources are able to fulfill their one requirement: help buyers of enterprise technology solutions make the best possible buying decisions.

Latest posts by Timothy King
(see all)