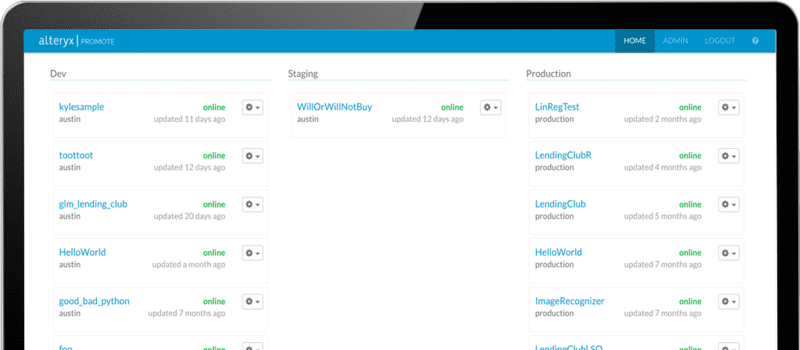 Alteryx recently announced Promote, a component to the Alteryx Analytics Platform that enables data scientists to deploy predictive models directly into business systems via an API so they can be managed over time. This release comes on the heels of the company's acquisition of data science company Yhat, who's technology was used to develop, deploy and manage real-time decision API's. Alteryx Promote was unveiled in London at the Inspire Europe 2017 conference.
Dean Stoecker, CEO at Alteryx, spoke to the new release in a press statement, saying: "Alteryx Promote puts the power back in the hands of data scientists for model deployment. By making it easier and faster to get advanced analytics models deployed, we are bringing joy back to data scientists who love to solve complex business problems but have struggled with that 'last mile' of getting models in production."
The tool extends advanced and predictive capabilities of the platform in three key areas. It enables data science teams (including citizen data scientists) to deploy and update their predictive models without the support of the IT department. Additionally, it embeds predictive and machine learning methodologies into production apps capable of using REST API requests without recording. It then administers the models with a variety of options, on-prem behind a firewall, or in a cloud environment.
According to the company, developing the model in a code-friendly environment and deploying it to a secure cloud will reduce deployment time to minutes. The vendor's official press release adds: "The resulting API is produced as a single line of code that the IT team can quickly and easily incorporate into HTML websites."
Alteryx Promote is expected to be generally available in early 2018 and will be an add-on to Alteryx Server.