Alteryx Updates Product Line; Unveils Alteryx Machine Learning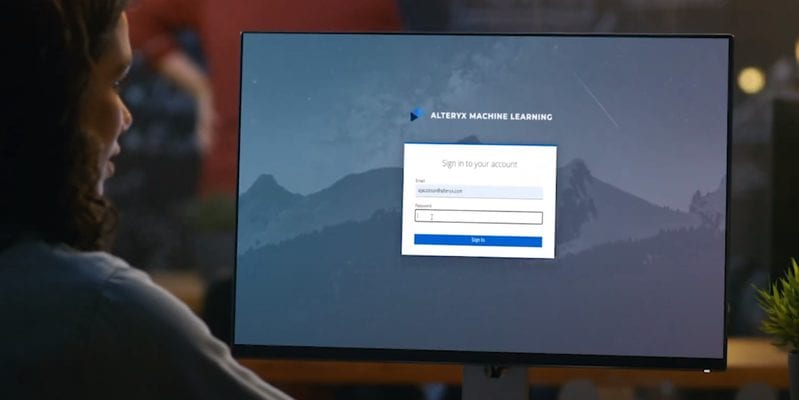 Alteryx recently announced product enhancements across its product line of data science and analytics tools, as well as the release of Alteryx Machine Learning. The company broke the news at Alteryx Inspire Virtual, its annual user conference. Currently available in early access, Alteryx Machine Learning provides guided, explainable, and fully automated machine learning (AutoML). Key features include feature engineering and deep feature synthesis, automated insight generation, and an Education Mode that offers data science best practices.
[box style="3″]Our Buyer's Guide for Analytics and Business Intelligence Platforms helps you evaluate the best solution for your use case and features profiles of the leading providers, as well as a category overview of the marketplace.[/box]
Alteryx is a self-service data analytics software company that specializes in data preparation and data blending. Alteryx Analytics Hub allows users to organize, clean, and analyze data in a repeatable workflow. Business analysts find this tool particularly useful for connecting to and cleansing data from data warehouses, cloud applications, spreadsheets and other sources. The platform features tools to run a variety of analytic jobs (predictive, statistical, spatial) inside a single interface.
Alteryx Intelligence Suite is getting new automated machine learning capabilities, as well as natural language processing and text mining with drag-and-drop automation, computer vision features, and topic modeling and sentiment analysis. The company is updating its Designer product with 300 drag-and-drop features to automate data preparation, data blending, and more. There is also holistic data profiling and faster creation of automation apps. Rounding out the product enhancements is the ability to use Alteryx Designer in the Cloud and a unified platform and software developer kit for embedding Alteryx functionality into application interfaces.
In a media statement on the news, Alteryx Chief Product Officer Suresh Vittal said: "We are investing deeply in analytics and data science automation in the cloud, starting with Designer Cloud, Alteryx Machine Learning and AI introduced today. We remain focused on being the best at democratizing analytics so millions of people can leverage the power of data."
Read Stepping Into Today's Reality: Analytics and Data Science for Everyone or Introducing Designer Cloud in the company's blog to learn more.
[hr style="single"]