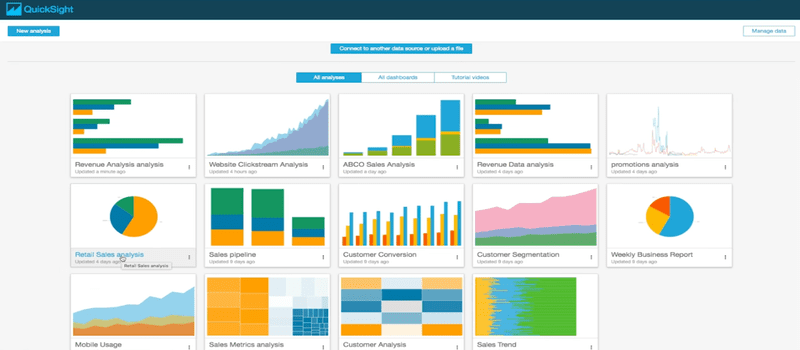 Amazon Web Services recently announced that Amazon QuickSight, the company's cloud-powered analytics tool, is now available to all customers. The service will make it easier for everyone within an organization regardless of their technical prowess to build data visualizations, perform ad-hoc analysis, and swiftly generate business insight from stored data. To date, QuickSight has been in preview, where more than 1,500 AWS customers have been using it. According to Amazon, the $9.00 per user, per month price tag comes at one-tenth the cost of traditional Business Intelligence solutions.
Raju Gulabani, Vice President of Database Services at Amazon Web Services adds: "Amazon QuickSight makes business analytics much easier, more accessible, cost effective, and faster than ever before. Because so many companies store data in AWS, it's very appealing to these customers that Amazon QuickSight can automatically discover their data in AWS, move it to SPICE, and return query results so quickly – all for one-tenth the cost of traditional BI solutions."
Amazon QuickSight was built from the ground up to provide the scale and flexibility of the AWS cloud in conjunction with analytics tools. New users can log in to QuickSight and have it automatically discover the data they have stored in AWS services like Amazon Redshift, Amazon Relational Database Service, and Amazon Simple Storage Service. The tool also connects to third-party data sources such as Microsoft Excel and Salesforce.com. The analytics tool formats data and moves it to SPICE so it can be visualized in QuickSight. Customers can then choose to keep the data in SPICE up-to-date as the data in the sources change.
QuickSight is free for one user and one gigabyte of SPICE capacity. The standard edition starts at $9 per user, per month and includes 10 gigabytes of SPICE capacity. Currently available in US East (N. Virginia), US West (Oregon), and EU (Ireland), additional regions will come online in the months ahead. The Enterprise Edition includes all Standard Edition features as well as support for Active Directory integration and encryption at rest and will be available in the weeks that follow.