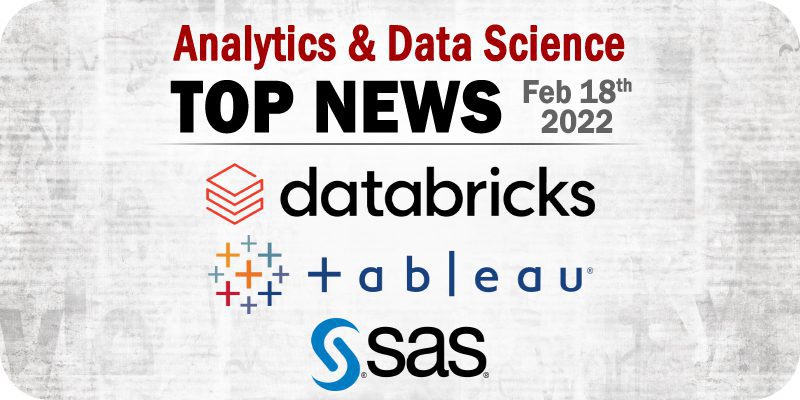 The editors at Solutions Review have curated this list of the most noteworthy BI and analytics news items for the week of February 18, 2022. In this week's roundup, news from Databricks, Tableau Software, survey results from SAS, and more.
Keeping tabs on all the most relevant BI and analytics news can be a time-consuming task. As a result, our editorial team aims to provide a summary of the top headlines from the last week, in this space. Solutions Review editors will curate vendor product news, mergers and acquisitions, venture capital funding, talent acquisition, and other noteworthy analytics and data science news items.
Top Analytics and Data Science News for the Week Ending February 18, 2022
Databricks Unveils New Lakehouse for Financial Services Offering
The new offering is tailored to customer use cases across the banking, insurance, and capital markets sectors. The Lakehouse for Financial Services incorporates data solutions and use-case accelerators for critical industry use cases like compliance and regulatory reporting, risk management, fraud, and open banking. It also touts support for real-time analytics, business intelligence, and artificial intelligence on all data types.
Tableau Debuts New Analytic-Focused CRM Features via Salesforce's Spring '22 Release
Originally announced at Dreamforce 2021, the new innovations were built for powering smarter experiences across the entire Salesforce Customer 360, including driving deeper insights from CRM data and accelerating time to value of analytics investments. Tableau CRM enables Salesforce customers right where they work so they can understand their data, discover insights, and have confidence in their business decisions with AI-powered insights in every Salesforce cloud and industry.
New SAS Research Reveals Data Science Roadblocks to Digital Transformation
To delve deeper into the state of data science, the report assesses the impact of the pandemic, challenges faced overall satisfaction with the analytics environment and more. The research showed the pandemic upended standard business practices, shifting the assumptions and variables in models and predictive algorithms and causing a ripple effect of adaptations in processes, practices, and operating parameters. Read the full report here.
Microsoft Power BI Releases its February 2022 Feature Summary
This month sees the market leader unveil highly anticipated features such as new mobile formatting options, Dynamic M Query Parameters support for more data sources, deployment pipeline enhancements and improvements to downloading a PBIX file. We encourage you to click the link below to review all of the updates for February, and boy are there a lot of them.
Voltron Data Launches with More than $100 Million in Seed and Series A Funding
Voltron is the company accelerating standards in data analytics and the largest corporate contributor to Apache Arrow. The company, currently at 100 employees, plans to expand Arrow-native computing and double its globally distributed and diverse team, primarily in engineering and go-to-market. CEO Josh Patterson was a White House Presidential Innovation Fellow, created the RAPIDS ecosystem at NVIDIA, and built cyber defense platforms at Accenture Labs.
For consideration in future data analytics news roundups, send your announcements to tking@solutionsreview.com.