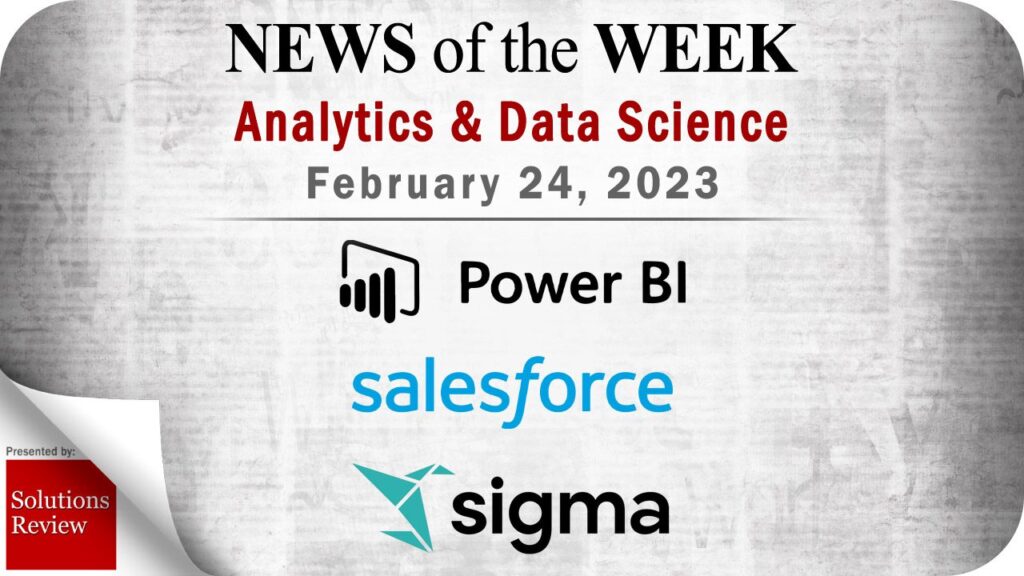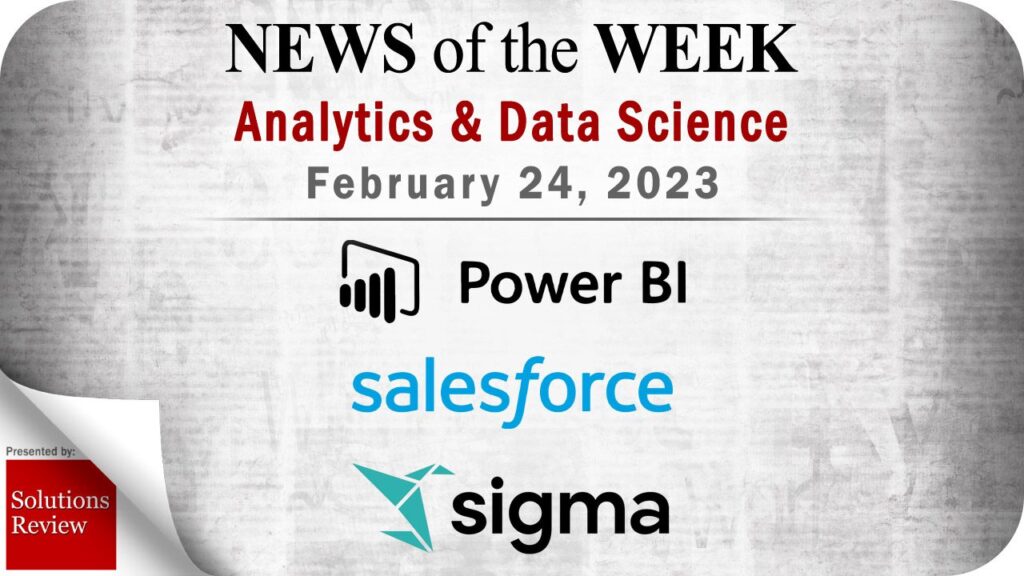 The editors at Solutions Review have curated this list of the most noteworthy analytics and data science news items for the week of February 24, 2023.
Keeping tabs on all the most relevant analytics and data science news can be a time-consuming task. As a result, our editorial team aims to provide a summary of the top headlines from the last week, in this space. Solutions Review editors will curate vendor product news, mergers and acquisitions, venture capital funding, talent acquisition, and other noteworthy analytics and data science news items.
Top Analytics and Data Science News for the Week Ending February 24, 2023
Databricks Announces VS Code Extension for Databricks
This new extension enables developers to write code locally, leveraging the powerful authoring capabilities of the IDE, while connecting to Databricks clusters to run code remotely. IDEs let developers employ best practices that become necessary with large codebases, such as source code control, modular code layouts, refactoring support, and integrated unit testing.
Microsoft Announces February 2023 Power BI Update
This update brings the on-premises data gateway up to date with the February 2023 release of Power BI Desktop. This version of the gateway will ensure that the reports that you publish to the Power BI Service and refresh via the gateway will go through the same query execution logic/run-time as in the December version of Power BI Desktop.
Salesforce Drops Untapped Data Research Survey of 100,000
We lack the skills necessary to make us fully at east in the big data era, according to Salesforce. The Untapped Data study found that 41 percent of business leaders say they don't understand data because it's "too complex or not accessible enough." Thirty-three percent say they lack the ability to generate insights from data, while 30 percent say they're "overwhelmed" by the amount of data.
Sigma Computing Launches its BI Platform on the Databricks Lakehouse
Benefitting users with access to massive live datasets for analytics, the partnership connects Databricks users to Sigma through Databricks Partner Connect, which allows Databricks customers to find trusted solutions to connect to powerful BI and analytics platforms in a one-stop portal. The new integration will benefit customers across a variety of sectors, including marketing and advertising, media, digital publishing, and financial services.
Tableau Announces 2023 'Tableau Visionaries'
The 2023 Tableau Visionaries, a title honoring the Tableau Community's most distinguished leaders. This group of 50 members inspires Tableau by "sharing their mastery, teaching, and collaboration to make Tableau better for everyone."  The new leaders represent Tableau's largest and most regionally diverse group to date!
Expert Insights Section
Watch this space each week as Solutions Review editors will use it to share new Expert Insights Series articles, Contributed Shorts videos, Expert Roundtable and event replays, and other curated content to help you gain a forward-thinking analysis and remain on-trend. All to meet the demand for what its editors do best: bring industry experts together to publish the web's leading insights for enterprise technology practitioners.
Solutions Review Set to Provide Expert Insights from the Upcoming Gartner Data & Analytics Summit
Philip Russom Ph.D. will be providing his expert insights from the event. Philip Russom is a well-known figure in data management, data warehousing, data integration, big data, and analytics, having worked as an industry analyst for 25 years, producing over 650 research reports, magazine articles, speeches, and webinars. He covered data management for Gartner, TDWI, Forrester Research, Giga Information Group, Hurwitz Group, and his own private analyst practice.
Row64 CEO Offers a GPU Programming Model Introduction for Solutions Review
Did you know that every day 2.5 quintillion bytes (aka 25 billion gigabytes) of new data is created? So can your business take advantage of GPU compute? And if so, how do you do it? To answer these questions we dive deeper into the world of GPU programming, how it works and what you need to use it.
Expert Short: The Benefits of an Elastic and Connected Cloud by Snowflake's Scott Teal
---
For consideration in future analytics and data science news roundups, send your announcements to the editor: tking@solutionsreview.com.