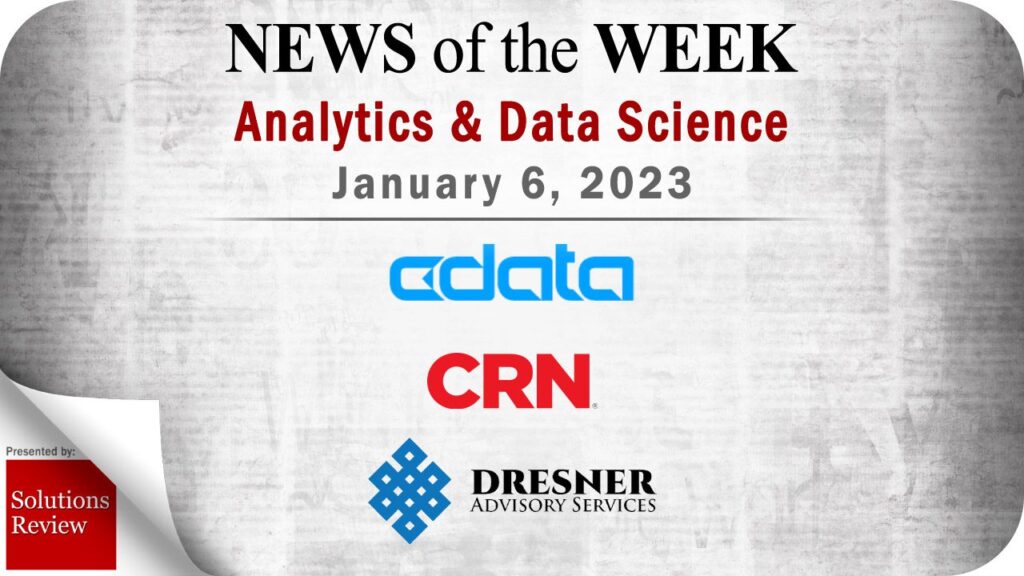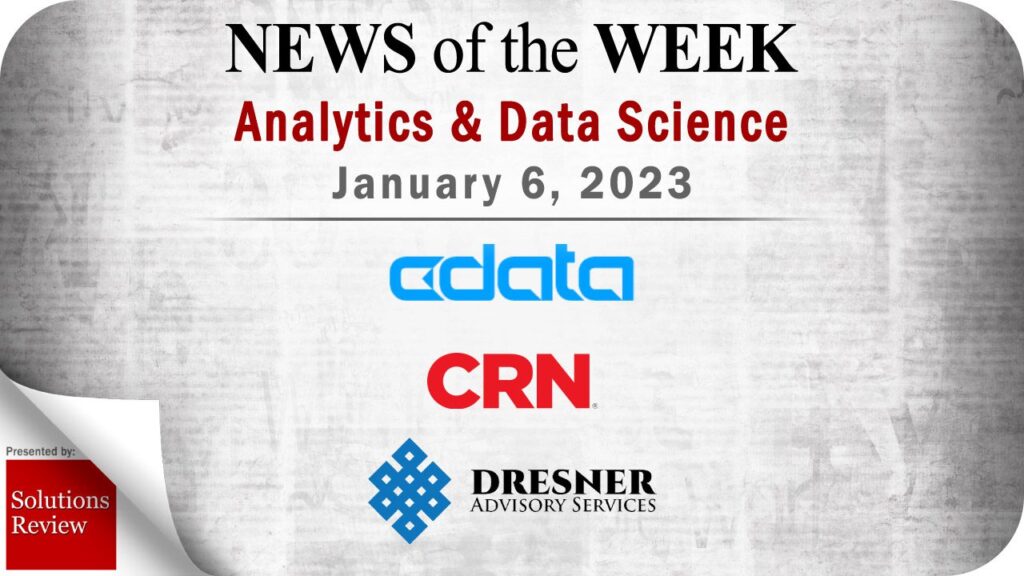 The editors at Solutions Review have curated this list of the most noteworthy analytics and data science news items for the week of January 6, 2023.
Keeping tabs on all the most relevant analytics and data science news can be a time-consuming task. As a result, our editorial team aims to provide a summary of the top headlines from the last week, in this space. Solutions Review editors will curate vendor product news, mergers and acquisitions, venture capital funding, talent acquisition, and other noteworthy analytics and data science news items.
Top Analytics and Data Science News for the Week Ending January 6, 2023
CData Software Unveils Certified Power BI Connector
Certified by Microsoft, the CData Connect Cloud Power BI Connector enables Connect Cloud users to access and analyze more of their disparate cloud data from within their Power BI dashboards. With simplified live access to hundreds of data sources and applications, anyone across an organization can make informed business decisions knowing that they have the most current, reliable information available in Power BI.
CRN Drops 2022 Hottest Big Data Startups List
Businesses are looking to next-generation database systems, data transformation and integration tools, and big data analytics software to help them leverage exploding volumes of data. Here's a look at ten "hot" big data startups developing leading-edge software and services that help solution providers and customers meet their big data challenges.
Dresner Advisory Services Releases 2022 Market Study on Analytical Platforms
The new report assessed sixteen vendors. Ratings are based on collective functionality as reported and confirmed by vendors and weighted by user and analyst importance. Included in the assessment are scores for data engineering, data catalog, self-service BI, embedded BI, and data science and machine learning.
Dresner Advisory Services Releases 2022 Embedded BI Market Study
This comprehensive study rated 19 different vendors based on a wide array of parameters both technical and functional. The annual Wisdom of Crowds market studies are based on data collected from end-users and provide a real-world perspective on various technical capabilities related to Dresner's annual research. Each report examines current deployment trends, user intentions, and industry capabilities.
Qlik is Set to Acquire Talend in Data Management Mega-Merger
The proposed transaction is subject to works council consultation. It would be expected to close during the first half of 2023 following customary regulatory approvals. Terms of the proposed transaction were not disclosed. Qlik and Talend provide comprehensive and complementary capabilities with industry-leading solutions across virtually every category of data solutions.
Privacera Secures AWS Data Analytics Competency Status
Achieving the AWS Data and Analytics Competency differentiates Privacera as an AWS Partner Network (APN) member that provides specialized software or consulting services designed to help enterprises adopt, develop, and deploy complex projects on AWS. To receive the designation, AWS Partners must possess deep AWS expertise and deliver solutions seamlessly on AWS.
Expert Insights Section
Watch this space each week as Solutions Review editors will use it to share new Expert Insights Series articles, Contributed Shorts videos, Expert Roundtable and event replays, and other curated content to help you gain a forward-thinking analysis and remain on-trend. All to meet the demand for what its editors do best: bring industry experts together to publish the web's leading insights for enterprise technology practitioners.
Solutions Review Announces Call for Contributors: Expert Insights Series Q1, 2023
Solutions Review calls for contributing authors to participate in its Expert Insights Series Q1, 2023. Solutions Review's Expert Insight Series is a collection of contributed articles written by industry experts in enterprise software categories. Solutions Review editors have published hundreds of expert insight articles from leading voices across 16 category-specific business software resource sites.
Looking to Become an Expert Data Scientist in 2023?
Data science skills are some of the most in demand in the IT world today. This short list of vetted data science certifications will have you on your way to becoming an expert data scientist in no time!
Key Questions to Ask When Evaluating Natural Language Tools for BI by Yseop CEO Emmanual Walckenaer
NLG utilizes advanced AI to turn complex data sets into high-quality written narratives accurately, quickly, and at scale. NLG enables businesses to automate manual, data-driven processes, alleviating employees from generating tedious financial reports or clinical study reports.
For consideration in future analytics and data science news roundups, send your announcements to the editor: tking@solutionsreview.com.

Latest posts by Timothy King
(see all)