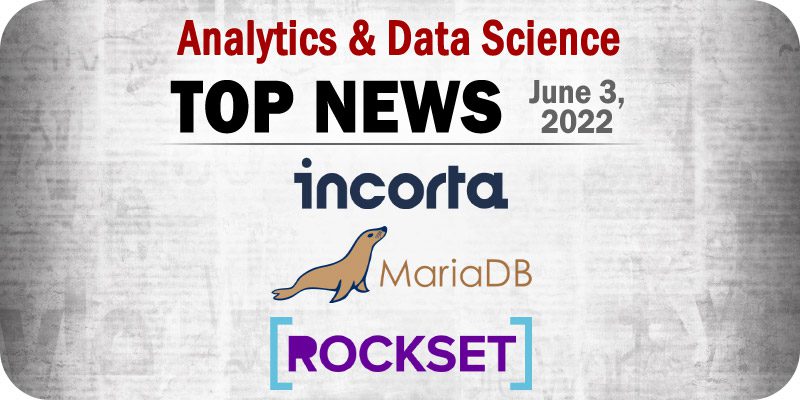 The editors at Solutions Review have curated this list of the most noteworthy analytics and data science news items for the week of June 3, 2022.
Keeping tabs on all the most relevant data management news can be a time-consuming task. As a result, our editorial team aims to provide a summary of the top headlines from the last month, in this space. Solutions Review editors will curate vendor product news, mergers and acquisitions, venture capital funding, talent acquisition, and other noteworthy data science and analytics news items.
Top Analytics and Data Science News for the Week Ending June 3, 2022
Incorta Launches Native Delta Sharing Integration and New Data Apps
The newly released data apps offer prebuilt business schemas and dashboards for Oracle EBS, Oracle ERP and EPM Clouds, NetSuite, SAP, and others. The Delta Sharing upgrade is a native integration that enables Incorta customers to quickly and easily share operational data across a wide variety of data platforms and solutions. The updates are now live and available to all customers.
MariaDB and MindsDB Announce Joint Technology Collaboration
MariaDB database users will now be able to add machine learning-based predictions directly into their datasets stored in SkySQL. This dramatically simplifies the task of analyzing and predicting future trends, putting machine learning capabilities into the hands of MariaDB users, no matter their role. The use cases for business predictions cut across every business function such as finance, sales, risk analysis, logistics, operations, and marketing.
Rockset Unveils New Integration with Oracle
Then ew integration enables developers to run real-time, search, aggregations and joins on data from Oracle databases. Built by the team behind the online data infrastructure that powers Facebook Newsfeed and Search, Rockset is inspired by the same indexing systems that power real-time analytics at cloud scale.
For consideration in future data analytics news roundups, send your announcements to tking@solutionsreview.com.

Latest posts by Timothy King
(see all)