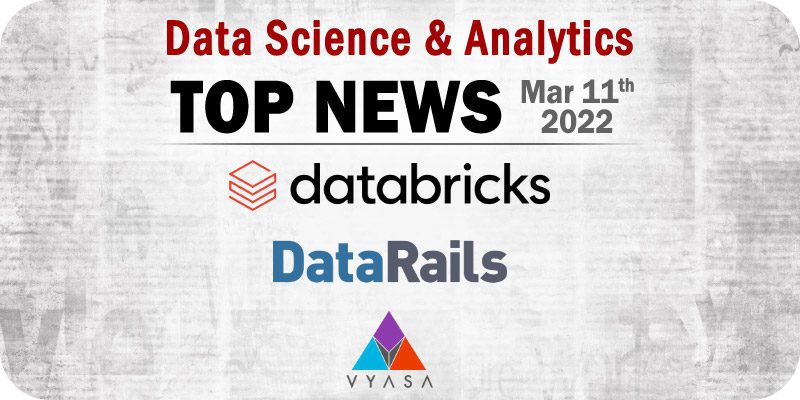 The editors at Solutions Review have curated this list of the most noteworthy analytics and data science news items for the week of March 11, 2022. In this week's roundup, product news from Alteryx and Stardog, and Grow Inc. gets acquired by Epicor.
Keeping tabs on all the most relevant analytics and data science news can be a time-consuming task. As a result, our editorial team aims to provide a summary of the top headlines from the last week, in this space. Solutions Review editors will curate vendor product news, mergers and acquisitions, venture capital funding, talent acquisition, and other noteworthy analytics and data science news items.
Top Analytics and Data Science News for the Week Ending March 11, 2022
Databricks Unveils Lakehouse for Healthcare and Life Sciences Industries
The Databricks Lakehouse for Healthcare and Life Sciences eliminates the need for legacy data architectures. It offers a single platform for data management, analytics, and advanced AI use cases like disease prediction, medical image classification, and biomarker discovery. The solution also touts analytics accelerators and open-source libraries – like Glow for genomics – along with a certified ecosystem of partners.
DataRails Secures $50 Million in Series B Funding for Financial Planning and Analysis
DataRails will use the funding to further invest in R&D as well as in sales and marketing and to expand and support its customer base worldwide. DataRails allows teams to enjoy the flexibility and power of Excel, but with the benefit of a cloud-based centralized database allowing real-time consolidation of disparate financial and operational data from across a company.
Vyasa Launches a Visual Data Fabric Creation and Management Solution
Vyasa Cortex is an intuitive data management tool that acts as the "blueprint" of the data fabric by allowing users to build, manage, and provision access to data sources connected to Vyasa Layar data fabrics. As data sources are connected, Vyasa Layar indexes and analyzes the connected content to build out a flexible "bird's eye view" of the client's full data landscape. Each Layar instance acts as a building block that can be combined with other instances to create a larger data fabric.
Solutions Review is Set to Host Data Demo Day Q1 2022 on March 17
Data Demo Day Q1 2022 will feature live product demonstrations from leading data management and analytics vendors Syncfusion, Qlik, and Tamr. Data Demo Day for Q1 2022 is an exclusive virtual trade show featuring an inside look at the technologies of three prominent data management and analytics solution providers. Solutions Review is hosting this online event as a way to present the latest data management and analytics tools from the comfort and safety of your own desk, and the best part? It's free to attend!
For consideration in future data analytics news roundups, send your announcements to tking@solutionsreview.com.

Latest posts by Timothy King
(see all)