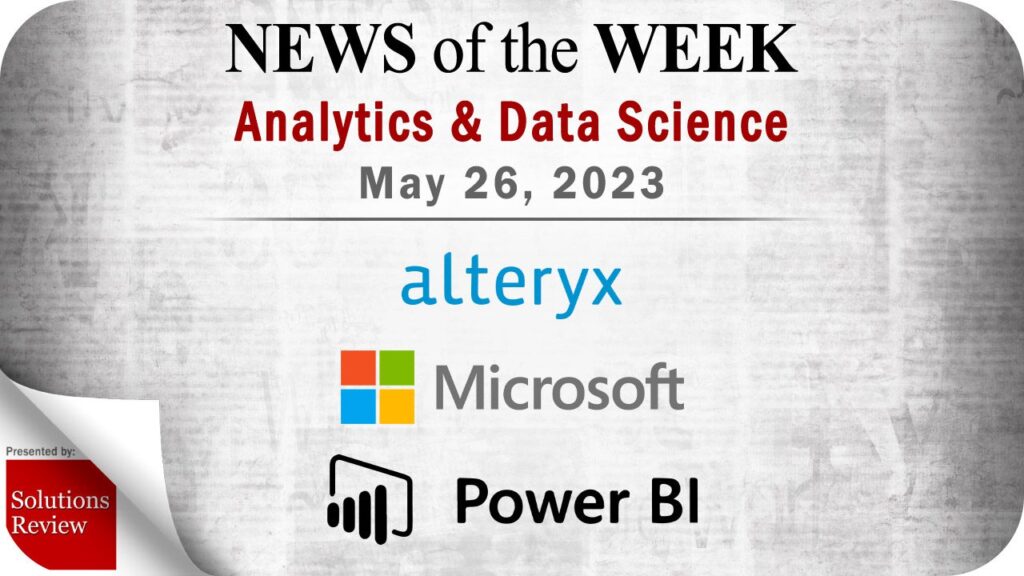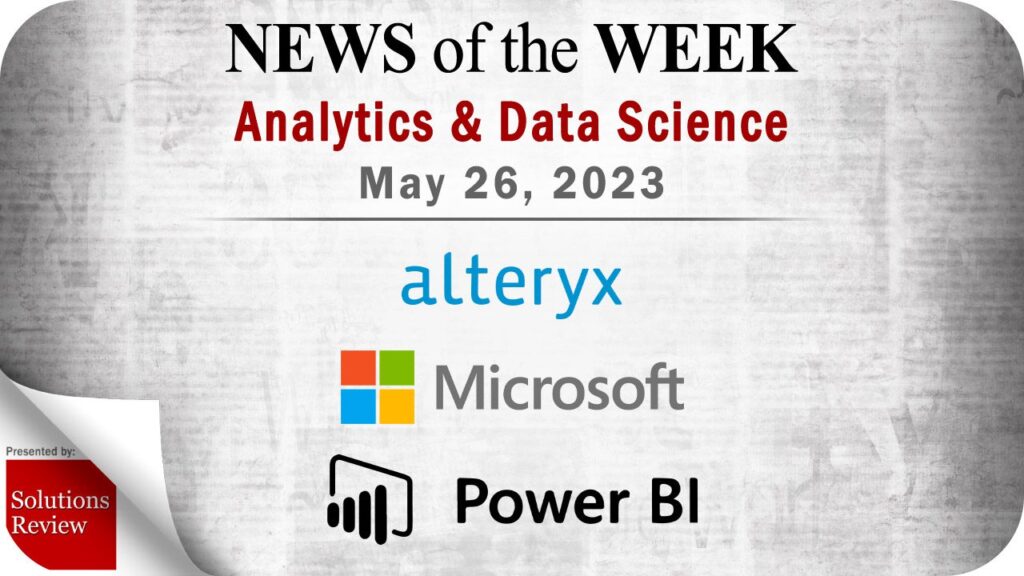 Solutions Review editors curated this list of the most noteworthy analytics and data science news items for the week of May 26, 2023.
Keeping tabs on all the most relevant analytics and data science news can be a time-consuming task. As a result, our editorial team aims to provide a summary of the top headlines from the last week, in this space. Solutions Review editors will curate vendor product news, mergers and acquisitions, venture capital funding, talent acquisition, and other noteworthy analytics and data science news items.
Analytics and Data Science News for the Week of May 26, 2023
Alteryx Joins the Generative AI Revolution with New Capabilities
Alteryx is combining the power of its trusted Alteryx analytics outputs with generative AI and large language models to supercharge the democratization of analytics and dissemination of insights across the organization, while still capturing the governance and observability Alteryx is known for.
Blend360 Acquires FutureproofAI, Inc.
The acquisition represents a significant leap forward in Blend360's data science and engineering expertise. With the service offerings and customer base of FutureproofAI, Blend360 will deliver high impact digital transformation to the critical field of customer decision-making in real-time across inbound, outbound, paid and owned channels.
Databricks Drops 2023 State of Data + AI Report
Not only is the technology improving at an unparalleled cadence, but companies are also building their own models like never before. Now, predictive models are underpinning mission-critical tasks, giving organizations a window into the future instead of just a review of the past, and helping them operate quicker and leaner.
Teradata and Dataiku Join Forces on Enterprise AI At Scale
The ClearScape Analytics capabilities are designed to allow enterprise customers to import and operationalize Dataiku AI models inside the Vantage analytics and data platform. With these new capabilities, Teradata expects to integrate and operationalize Dataiku models at scale. This combination of Dataiku and Teradata's ClearScape Analytics empowers customers to accelerate digital transformations and deliver AI-led business value.
Microsoft Unveils New Microsoft Fabric Unified Data Analytics Platform
Fabric integrates technologies like Azure Data Factory, Azure Synapse Analytics, and Power BI into a single unified product, empowering data and business professionals alike to unlock the potential of their data and lay the foundation for the era of AI.
Power BI Gets New Open, Save & Share Options
You'll find preview announcement of new Open, Save, and Share options when working with files in OneDrive and SharePoint document libraries, updates to the On-Object Interaction feature released to Preview in March, a new feature gives authors the ability to define query limits in Desktop, data model editing in the Power BI Service, and updates to the Power BI Tabs in Microsoft Teams.
Expert Insights Section
Watch this space each week as Solutions Review editors will use it to share new Expert Insights Series articles, Contributed Shorts videos, Expert Roundtable and event replays, and other curated content to help you gain a forward-thinking analysis and remain on-trend. All to meet the demand for what its editors do best: bring industry experts together to publish the web's leading insights for enterprise technology practitioners.
Solutions Review Set to Host Snowflake, Satori, and Monte Carlo for Expert Roundtable on June 8
In this expert roundtable discussion, our panelists will share their experiences, discuss best practices for integrating technology solutions, and offer guidance for establishing a sustainable information risk program for ensuring the governed accessibility to sensitive corporate data. The 60-minute virtual event is moderated by an independent industry analyst, with a topic introduction hosted by Solutions Review – all broadcast live to an audience of registered attendees.
For consideration in future data science news roundups, send your announcements to the editor: tking@solutionsreview.com.