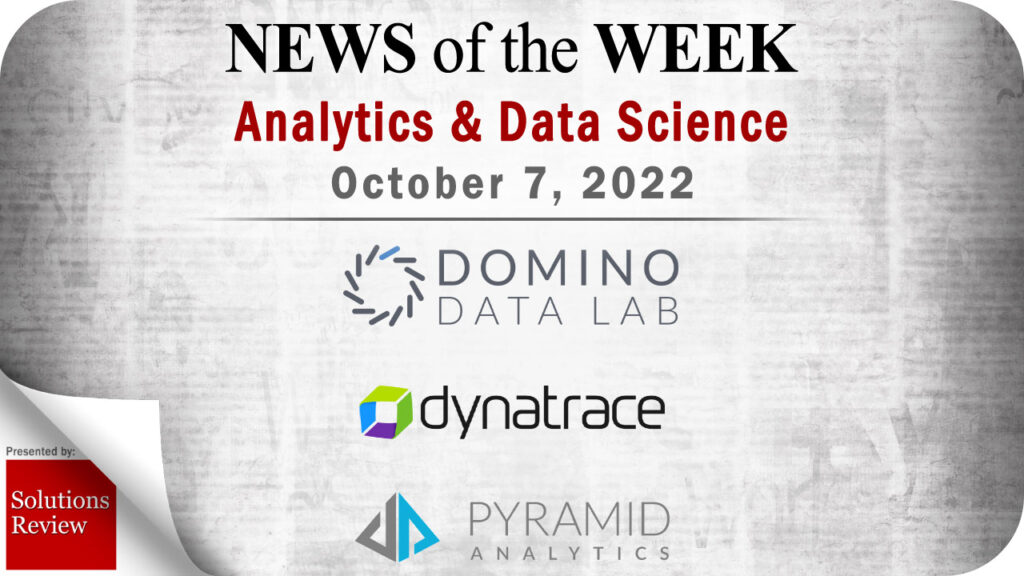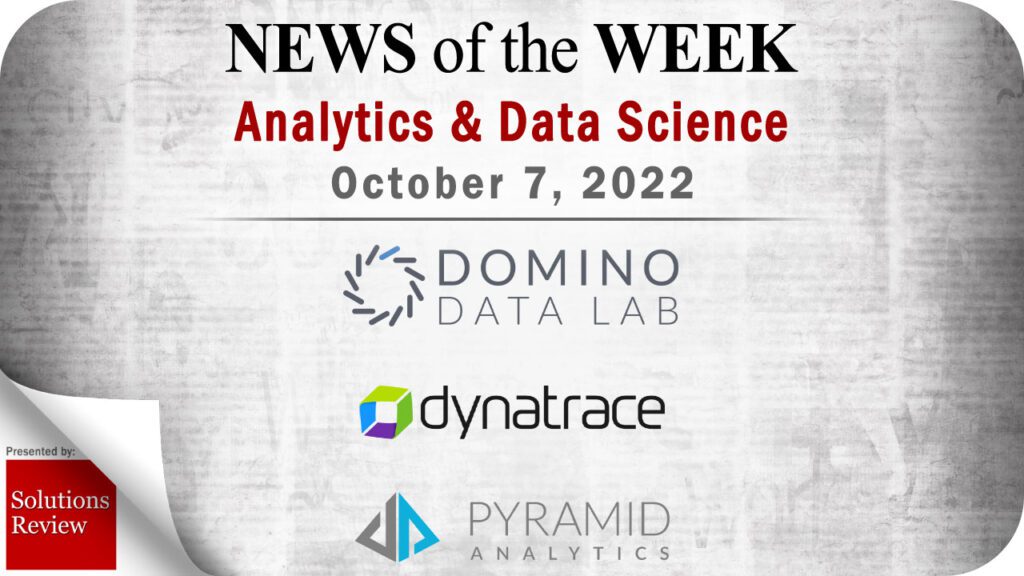 The editors at Solutions Review have curated this list of the most noteworthy analytics and data science news items for the week of October 7, 2022.
Keeping tabs on all the most relevant analytics and data science news can be a time-consuming task. As a result, our editorial team aims to provide a summary of the top headlines from the last month, in this space. Solutions Review editors will curate vendor product news, mergers and acquisitions, venture capital funding, talent acquisition, and other noteworthy analytics and data science news items.
Top Analytics and Data Science News for the Week Ending October 7, 2022
Domino Data Lab Unveils New Multi-Cloud Features in Domino 5.3
The latest platform version introduces a private preview of its Domino Nexus hybrid and multi-cloud capabilities, plus an expanded suite of connectors to simplify and democratize access to critical data sources, and new GPU inference capabilities that make it easier to productionize high-value data science projects, including deep learning.
Dynatrace Launches Grail Core Technology to Power Analytics, Observability, and Security
Initially, Dynatrace is leveraging Grail to power log analytics and management. Going forward, the company expects to extend the technology to power additional IT, development, security, and business analytics solutions. Grail is a causational data lakehouse with a massively parallel processing (MPP) analytics engine.
IT Infrastructure Player Kyndryl Partners with Teradata on AI Data Modernization
The companies are uniting Kyndryl's Data and AI services and infrastructure management capabilities with Teradata's high-performance cloud analytics and data platform to help customers modernize and migrate their on-prem data warehouses to the cloud with hyperscaler platforms. Kyndryl and Teradata will also collaborate to help customers use AI to derive better insights and outcomes from their hybrid and multi-cloud data environments by designing, enabling and supporting enterprise data modernization solutions.
Lightdash Raises $8 Million in Funding for Open-Source Business Intelligence Tool
The seed round was led by Accel, with participation from Moonfire, Y Combinator (YC), Snyk founder Guy Podjarny, and Gitlab CMO Ashley Kramer. Lightdash is built specifically for dbt, a command line-based data transformation tool that allows analysts to transform raw data in their warehouse using SQL and their usual text editor.
Microsoft Releases Deployment History Feature and Azure DevOps Extension
With the new Deployment pipeline feature, Deployment History, all your recent months' deployments are available to be reviewed providing details on the target environment, such as the person who ran the deployment, the deployed items, the deployment note's content (if been added) and more.
Pyramid Analytics Finalizes Practice for US Federal Government
Led by a team of experts with a deep background in the federal market segment, Pyramid's Federal Business Practice builds on the company's success with federal agencies such as the U.S. Department of Veterans Affairs (VA) and strengthens its focus and commitment to providing the U.S. Federal Government and federal partners with sales, technical expertise, and deployment services to deploy Decision Intelligence for strategic uses at scale.
Learn the programming fundamentals required for a career in data science. By the end of the program, you will be able to use R, SQL, Command Line, and Git. There are no prerequisites for this program, aside from basic computer skills. With real-world projects and immersive content built in partnership with top-tier companies, you'll master the tech skills companies want.

Latest posts by Timothy King
(see all)