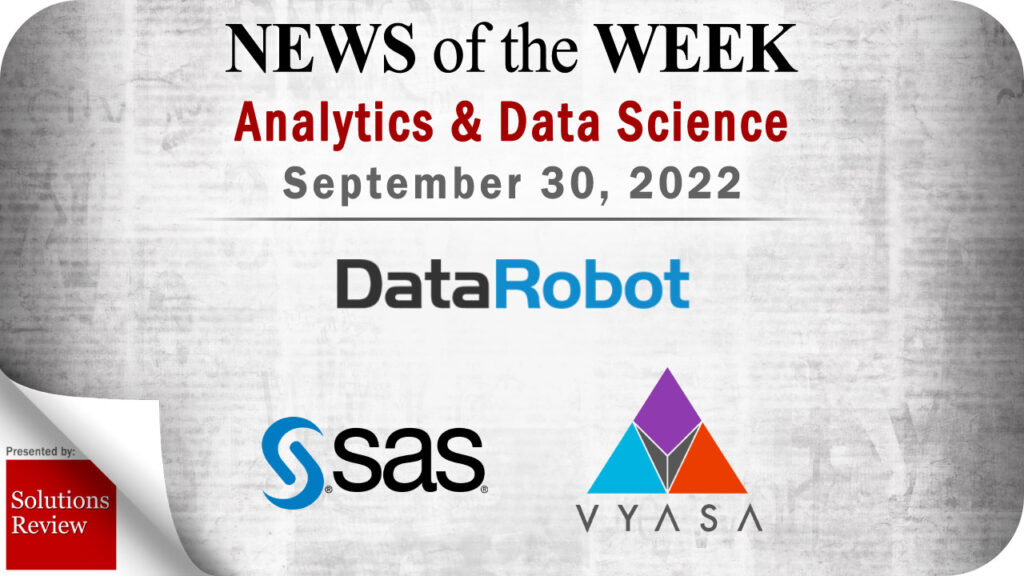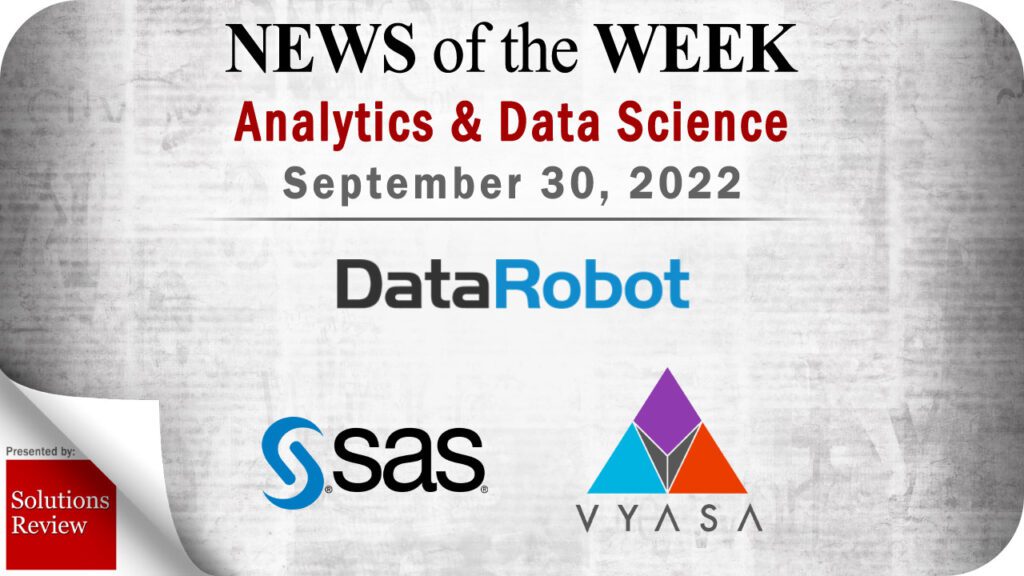 The editors at Solutions Review have curated this list of the most noteworthy analytics and data science news items for the week of September 30, 2022.
Keeping tabs on all the most relevant analytics and data science news can be a time-consuming task. As a result, our editorial team aims to provide a summary of the top headlines from the last month, in this space. Solutions Review editors will curate vendor product news, mergers and acquisitions, venture capital funding, talent acquisition, and other noteworthy analytics and data science news items.
Top Analytics and Data Science News for the Week Ending September 30, 2022
DataRobot Launches Dedicated Managed AI Cloud
DataRobot Dedicated Managed AI Cloud builds on a decade of experience driving business-critical AI/ML projects for hundreds of customers across on-premises, virtual private cloud, public cloud, and in DataRobot multi-tenant SaaS deployments. This new offering extends the full functionality of the AI Cloud to provide a dedicated managed instance of the DataRobot platform running for each customer in the cloud.
Dresner Advisory Services Publishes 2022 Small and Mid-Sized Business Intelligence Report
Count is a hyper-collaborative data platform that is putting collaboration and problem-solving at the heart of data analysis. Its flagship product canvas is an all-in-one data analysis and contextualization platform that helps teams join forces during the entire analytics workflow, accelerating data-driven decision-making across the whole business.
Microsoft Releases September 2022 Power BI Report Server Features
The release includes enhanced Windows Narrator support for the new Windows OS (Operating Systems) and Windows Server, security enhancements, browser performance improvements with Angular, accessibility bug fixes, support for SQL Server 2022 (16.x) Preview instances report server catalog and feature updates.
Qlik Extends Strategic Partnership with Databricks on SQL-Based Ingestion
First is the launch of the Databricks Lakehouse (Delta) Endpoint, a new capability in Qlik Data Integration, which will simplify and improve customers' ability to ingest and deliver data to the Databricks Lakehouse. Second is the integration of Qlik Cloud® with Databricks Partner Connect, enhancing the Qlik Data Analytics trial experience with Databricks. Both deepen and expand the ability of customers to combine Qlik and Databricks in their efforts to leverage the cloud for impact.
SAS Software's Viya Analytics and Data Management Offering Now Available on Azure
The SAS Viya analytics platform is now available in the Microsoft Azure Marketplace with the click of a button on a pay-as-you-go basis. Full-featured SAS Viya on Microsoft Azure equips customers worldwide with access to essential data exploration, machine learning, and model deployment analytics. It's available in many translated languages and includes an extensive in-app learning center to support immediate onboarding and long-term success.
Vyasa Adds Real-Time Dashboards to Layar Data Fabric
Featuring an intuitive design, Signal enables users to monitor trends and identify anomalies in their Layar data fabric through highly-visual charts and graphs, delivered in a single dashboard. Signal is the latest application interface developed by Vyasa to make this data easy to analyze in low code.
For consideration in future analytics and data science news roundups, send your announcements to the editor: tking@solutionsreview.com.
Whether you are a data analyst looking to communicate more effectively, or a business leader looking to build data literacy, you will finish this program able to use data effectively in visual stories and presentations. This training will teach you to combine data, visuals, and narratives to tell impactful stories and make data-driven decisions. It should take roughly 4 months to finish at 10 hours per-week.