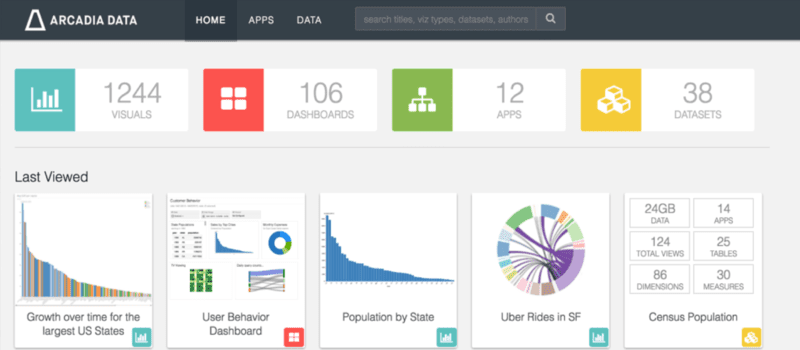 Arcadia Data recently announced the launch of Arcadia Enterprise version 4.0. The platform enhancements enable enterprises to build, brand, share and embed data-centric applications, making Apache Hadoop and cloud-based data lakes more accessible and valuable to all users in and outside of an organization. The offering includes a new user interface and extranet deployment security that acts as a bridge between business users and self-services access to Big Data for discovery. The announcement was made at the Gartner Data and Analytics Summit.
Version 4.0 is a data-native visual analytics and Business Intelligence platform that touts ease of use and agility as its two main components. It also allows for concurrent users and doesn't require users to evoke the painstaking extract, transform and load (ETL) process. Additional capabilities include:
Point-and-click application design: Expands access and use of data sources cross-enterprise for historical and real-time analysis. Also provides a responsive visual designer for users to define workflows and customize applications to meet branding standards
Secure extranet deployments: Provide enterprises a way to publish data applications externally, while securely provisioning and controlling the exact sets of data tat are published and accessible. Features functionality that makes this possible for thousands of users
The company's co-founder and Chief Product Officer, Priyank Patel, speaks to the new release and current state of the market: "Organizations today fail to fully realize the value from their big data projects because they are hamstrung by business intelligence and visualization tools that only analyze a sub-segment of data extracted from Hadoop and other scale-out platforms and break at big data scale." He adds: "Arcadia Data is empowering organizations to solve their most complex big data problems."
According to the company, version 4.0 will be available to users in Q2 2017.
For more, read the full press release.

Latest posts by Timothy King
(see all)