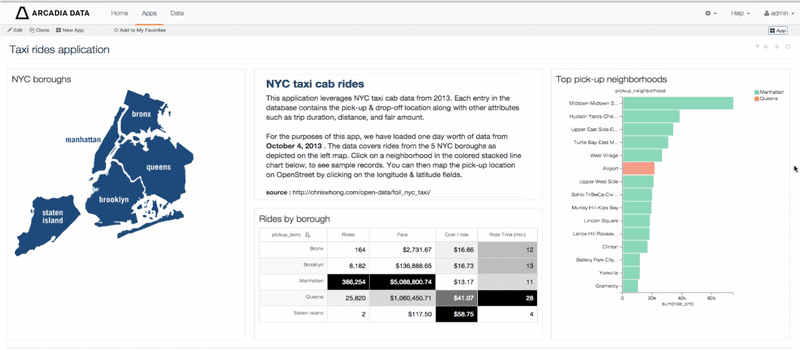 Arcadia Data recently announced the general availability of Arcadia Enterprise 3.3, touting major enhancements to the vendor's Hadoop and data-native converged visual analysis, data discovery and Business Intelligence platform. new features include Arcadia Smart Acceleration, advanced segmentation and cohort analytics, analytic extensions, and mobile and tablet support.
Version 3.3 facilitates real-time insights for applications in the IoT age, such as the connected car, manufacturing quality, cyber security, and data center monitoring. By enabling access to data sources like Apache HBase, Apache Kudu, and now Apache Solr in this new release, the platform provides streaming data visualizations side by side with historical reports in integrated data applications. As a result, users can switch between real-time and ad-hoc data discovery and reporting. Additionally, new cloud-native connections for Amazon S3 allow users to easily access and analyze data in AWS, in addition to existing support for Redshift.
The company's co-founder and chief product officer Priyank Patel speaks to the new release: "Arcadia's data-native architecture and unique on-cluster execution allows us to continually innovate and extend support for more data sources, analytic types and real-time capabilities. Today's enhancements tackle high-definition big data analytics on a dramatically simplified and real-time modern BI platform, allowing us to better deliver organizations with deep insights from real-time analysis at scale."
Arcadia's platform is unique in that it runs natively atop an organization's Hadoop cluster, converging the visual, analytics and data layers to provide swift access to all of the data stored within Hadoop. The provider's team is made up of folks previously at Aster Data, Teradata, 3PAR, and IBM. Founded in 2012 and based in San Mateo, California, Arcadia is a vendor we'll be tracking closely in the months ahead.
Check out Patel's latest blog post to learn more about version 3.3, or read the official press release on.

Latest posts by Timothy King
(see all)