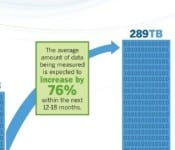 The 2014 IDG Enterprise Big Data research study was just announced.  The purpose of the study is to gain a better understanding of organizations' big data initiatives, investments, and strategies.  In 2014 enterprises are expected to spend an average of $8 million on big data-related initiatives, according to IDG.  751 respondents from CIO, Computerworld, CSO, InfoWorld, ITworld, and Network World were interviewed for the survey.
Some of the key findings include:
* 70% of enterprises have already deployed or expect to deploy big data-related projects.
* 74% predict that big data will be in mainstream use in at least one business unit or department in 2014.
* The top four categories driving investment in big data initiatives are: improving the quality of the decision-making process (59%), increasing the speed of decision-making (53%), improving planning and forecasting (47%), and developing new products/services and revenue streams (47%).
More key findings from the 2014 IDG Enterprise Big Data research report can be found here: