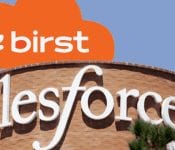 One the heels of SalesForce.com's announcement that it plans to enter the business intelligence market, companies like Birst are immediately responding. On October 27, 2014, Birst- a Cloud BI company announced its partnership with CRM Manager, a Salesforce.com implementation, integration, training and consulting firm. Birst will integrate its Cloud BI platform into CRM Managers Salesforce.com solutions which will enable users to access valuable information located within Salesforce.com.
This will be a big benefit for Salesforce.com users as Birst's pre-built integrations with salesforce.com and other cloud-based applications for advanced analytics across multiple data sources allow companies to gain increased insight into their organization. Combined with CRM manager's depth of experience in delivering integrated cloud-based solutions, Birst and CRM manager will enable customers to get the most comprehensive view of their CRM data for improved decision-making.
+ Check Out a Free 2015 Business Intelligence Tools Buyers Guide
"CRM manager's clients operate in a fast-paced and competitive business environment and continually seek better approaches to identify new customers, service existing customers and differentiate themselves in the marketplace. Our mission is to help organizations identify and implement solutions that position them to achieve these goals. By incorporating Birst's powerful business intelligence platform into our solution, clients will be better positioned to more quickly respond to the ever-changing business landscape. With Birst, CRM manager is able to deliver an integrated and customized solution, making BI accessible across the organization to enable all users to make more informed decisions," said John McCloskey, Chief Operating Officer at CRM manager.
"CRM manager's impressive expertise in delivering salesforce.com solutions, together with Birst's cutting-edge BI platform, will ultimately increase efficiency and improve decision-making for customers. We're pleased to welcome CRM manager to the Birst Partner Alliance," said Sharon Gordon, Vice President of Birst Alliances and Technology Partnerships.
Birst is only one company taking steps in integrating with Salesforce.com for Business Intelligence and I'm interested to see how many more will follow suit over the coming months.
Click here to read the full version of the Birst press release, Birst and CRM manager Partner to Deliver Integrated BI Solutions for salesforce.com Deployments."
Check out these additional resources:

Latest posts by Doug Atkinson
(see all)