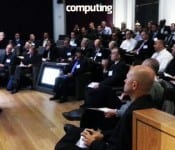 London-based technology analysis and news organization Computing recently hosted an IT Leaders Forum called "Assessing the Future of BI in Big Data."  The technology leaders assembled at the forum discussed the differences between traditional business intelligence and the emerging concept of big data. BI is usually focused on analyzing historic business data.  The main aspect that differentiates these two disciplines is that big data offers real-time or near real-time analytics that can be acted on by the business.  BI also enables organizations to examine data in a more customer-friendly approach.
Forum participants gained insight into how different entities, ranging from government agencies, restaurants, and retail chains can utilize BI to attract customers or respond to emergency situations.
Although it might seem that BI and big data are similar, both disciplines require contrasting skills.  Andrew Maclaren, a BI data consultant with Brilliant Data Corp., envisions the people currently working on BI will have the necessary skills that companies will value in the future.  Having the right skill set for BI will be important since a lingering skepticism of computer-crunched data still exists.
Retail companies have grown to depend on the capabilities of big data analysis techniques.  Media expert Trevor Attridge speculates that retailers are quite knowledgeable about their customers buying habits.  "They know exactly what you are buying and what you are going to buy next week, but they will throw in a lawn mower or a garden shed because they know so much about their customers, but don't want to let on," says Attridge, CIO of the media agency MEC Global.
One question that IT leaders will have to explore is whether or not big data will eliminate business intelligence? "target="_blank">Click here to understand the dynamics between BI and big data and to answer the previous question for yourself.