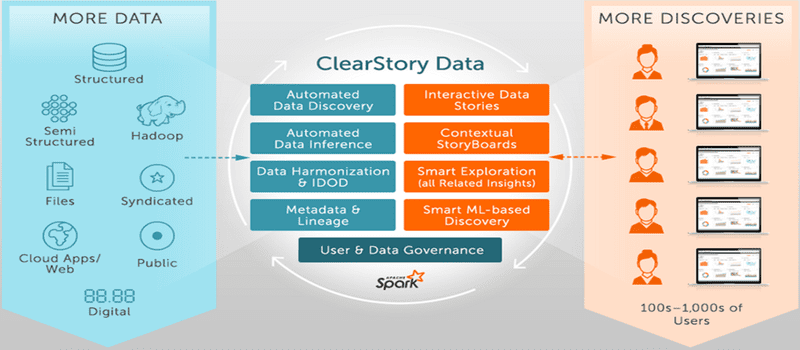 ClearStory Data recently released new capabilities with Automated Smart Data Discovery to make it easier for enterprise organizations to find and isolate patterns in data across complex data sources. The new functionality makes it possible for business users and analysts to visually discover relevant data from a single source or from multi-source blended and harmonized data to hasten time-to-insight.
Data Discovery is increasingly being referred to as 'modern' Business Intelligence by many of the top experts in enterprise IT. This includes the folks at analyst house Gartner, Inc., and in one of their more recent market reports, they explained: ""The evolution and sophistication of the self-service data preparation and data discovery capabilities available in the market has shifted the focus of buyers in the BI and analytics platform market — toward easy-to-use tools that support a full range of analytic workflow capabilities and do not require significant involvement from IT."
With Automated Smart Discovery, business users and analysts can uncover patterns in complex data sources and pinpoint relevant data. ClearStory's interactive Automated Smart Data Discovery enables users to navigate through data quickly and see all data values in-context as data updates to spot all patterns that drive meaningful analysis.
Data Discovery is a vital link in the facilitation of self-service Business Intelligence, providing organizations with the ease of use they desire to run swift analysis. This allows companies to free up financial resources and their data experts to focus on other important initiatives. In this way, enterprises now have the chance to empower their end-users, providing them with the tools they need to take advantage of data as it is necessary, as opposed to waiting on permissions from the IT department.
The vendor's Chief Technology Officer Timothy Howes, in a statement, concluded: "As organizations struggle with analyzing large data volumes, with more complexity and from a diversity of sources, it becomes exponentially harder to understand what's most relevant in the data to answer business questions."
ClearStory was recently named a market visionary in the 2017 Gartner Magic Quadrant for Business Intelligence and Analytics Platforms, ahead of many more well-known solution providers.
For more, read the full press release.